Work from home must haves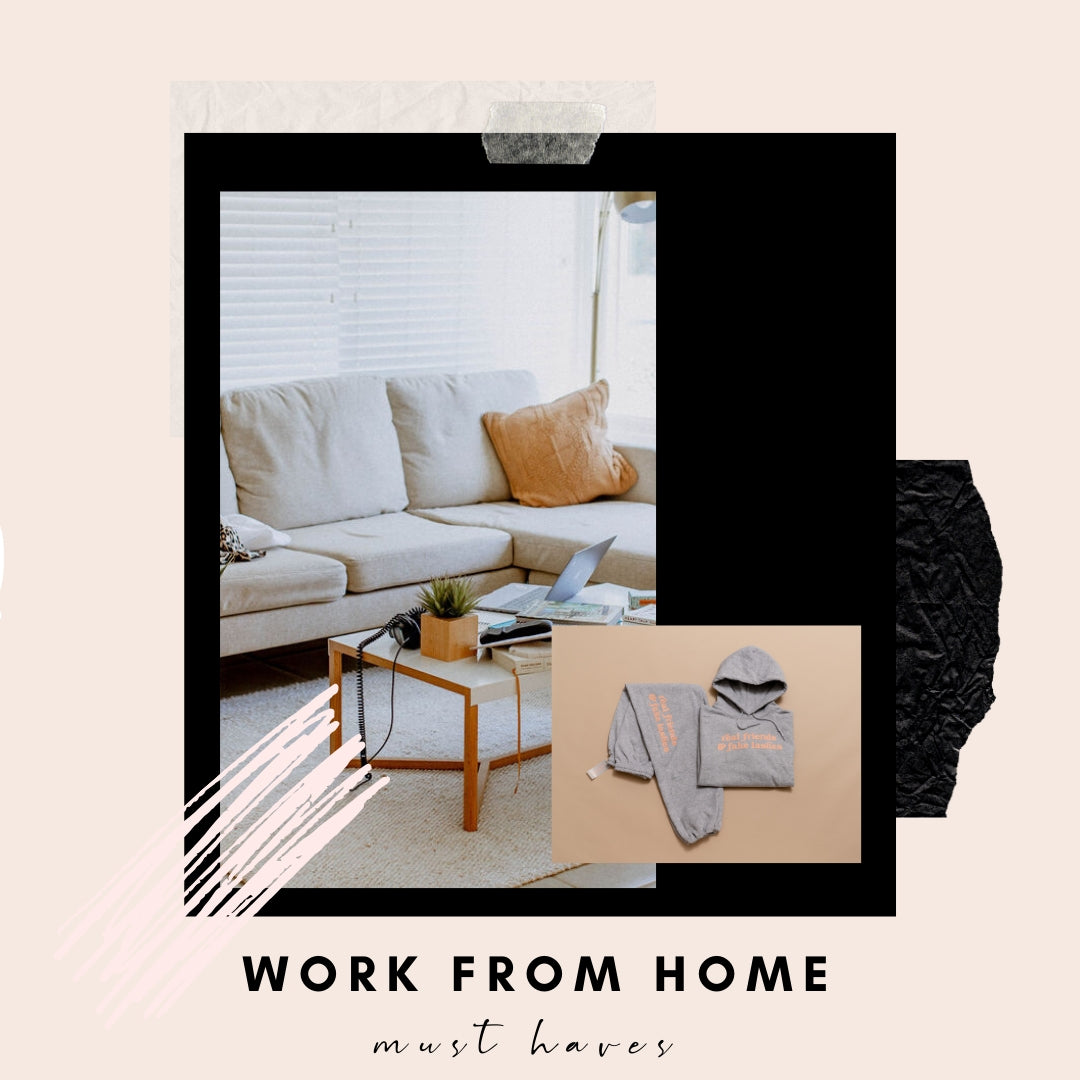 Is your house now your office? Mine, too. While it's been super annoying having good WiFi in only one corner of my house, I've actually found myself to be more productive at home. I think it's just having less distractions which = more focus. 
While we can't quite do lashes or give facials at home, there are so many other aspects to our business that need to get done and require more than just an iPhone and a couch. I personally need some sort of set-up to take myself seriously. Structure isn't something I'm used to but it's what I NEED to actually feel safe and productive. (More on that in a later post) 
So, where do we start? Let's get a desk. For one, you have to avoid horrible posture, an uneven surface and no where to put your collagen creamer coffee. (The only way I drink my coffee and with these straws, too)
Having a proper desk is the key to focus + organization. Personally, I don't have space for a full on desk because I thought my spare room was better off for guests that don't come over LOL but I do have room for this perfect folding desk linked HERE. I love this thing! Let me break it down for you:
+ it's the perfect size
+ adjustable so I can use it while sitting OR standing 
+ cup holder (duh)
+ easy to fold and store anywhere
+ won't break the bank
If you can't get the desk, I love this laptop placemat. It's an inexpensive way to create a "space" for your computer. I love a tan leather so that's the one I have. It also doubles as a backdrop for pictures. (always buying things that can be used for multiple things) 
Next up, you NEED a computer mouse. I didn't think about this much until I was on my laptop for hours and getting hand cramps. We HAVE to save our money makers. Yeah, I know there is one built into the laptop but there is just something about a REAL mouse that makes all the difference for me and it's easy on the wrists. I now carry my mouse with my laptop and I 100% will be that girl that busts it out at a coffee shop once I can actually go to one. 

To shop the mouse I use, click HERE. Why I love it
+ bluetooth, means no cord
+ it works with all computers & iPads
+ there are color options for all my pink girls out there
+ it's rechargeable so no batteries
Ipad pen: My iPad pen got me to whip out my iPad and start writing again! I now write all my notes with the pen and can quickly draw out ideas I have without scrambling for paper. Yes, I'm typically a pen to paper kind of girl but this is so much more efficient while still feeling old school. I use the notes section to categorize my lists and have a section for "ideas" where I just draw. It's really worth every penny. The best part is you can use different colors to write, draw and highlight and if you mess up...just erase (virtually) You'll need the adapter to charge it here
Okay, this is going to seem random and maybe has nothing to do with a home office but my life changed when I invested in a bad ass trash can. I really should say trash cans because I kid you not, I have 6 of these. One for every room at the studio and before I moved in with my boyfriend, I invested in one for my kitchen. I feel like a grown a** woman with these sleek trash cans. 
Check it out HERE.
Why I NEEDED to buy so many slightly expensive trash cans you ask?
+ they are beautiful and chic so they don't take away from the space they're in. I'm all about things doubling as decor. 
+ perfect size (I prefer the 8 gallon) and the shape just works! 
+ color options! Half of mine are in "almond" the other half is "clay pink"
+ 10 year guarantee
Seriously, I never thought about the esthetic of a trash can until I needed ones for my studio. I bought 5 I hated that were too small and an eye sore. This trash can is a show stopper. 


Once you've got all this throw on one of our new summer styles, get comfy and get to work. 


Here's to staying productive, comfortable and sane.