Bar cabinet turned lash storage and why you need one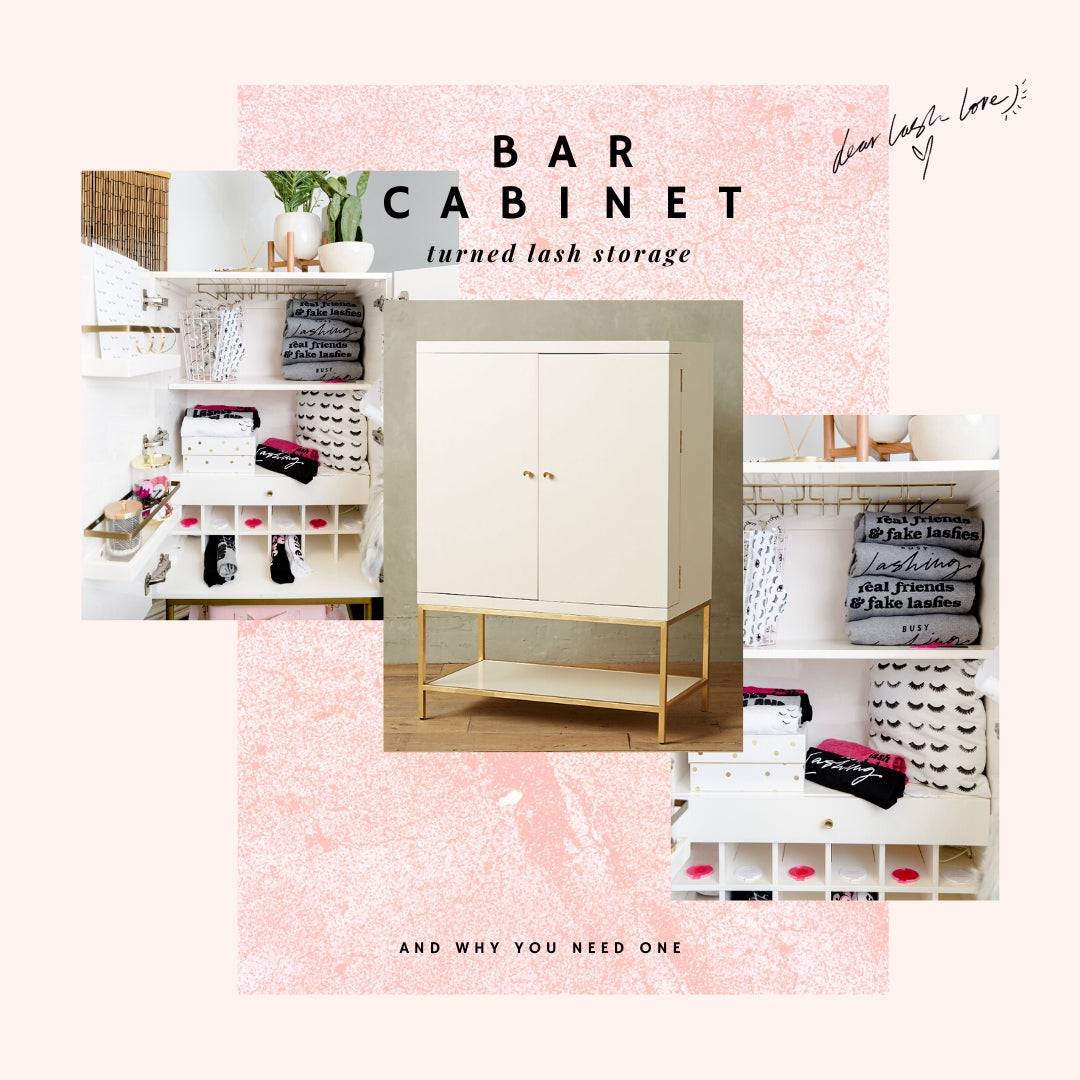 One of the biggest and best purchases I've made for my business is a wine cabinet and not just because I like my vino. 
In 2015 I found my gem of a studio and it needed a serious face lift. I was tired of buying 20 things only to keep replacing them and inevitably hating them all. I think I had just turned 30 that year so was also on this new adult kick of needing better furniture and not just buying cheap sh*t. While this piece IS pricey I've had it for almost 6 years. TRUST ME. Spend the $$ on one piece of furniture that can be a wow factor for your space. 
I was on the hunt for a storage unit that could hold all my lash supplies (specifically the trays) but something that was also a "show piece" and not an afterthought...more of a piece of art. 
So why does a lash space need a bar cabinet?
SO many reasons. Let me break it down.
+Sleek I know I already mentioned this but it is important to me to have a certain aesthetic to my space and this bar cabinet nails it. It goes from functional to photo shoot worthy in 2 seconds. 
+Versatile Bar cabinets traditionally have little, "wine cubbies" we will call them. This is a place to slide a bottle in sideways. You know what fits in there perfectly and so neatly? Lash trays. You are easily able to organize them in as many cubbies as you need. There are also plenty of ways to move around the shelves to create shorter or taller space. 
+Out of sight  No one wants to look at all of your crap. The beauty of this style of organization is it has doors which means you can tuck everything away nicely. No more eye sores.
+Timeless The bar cabinet I bought is absolutely timeless. The style is and will always be in style and since I wound up spending the extra coin to get what I really wanted, the quality will last a lifetime.
+Photo worthy These cabinets have made their debut in so many of my shoots so I'm getting more bang for my buck.
So when I say I love this thing, I mean, I wound up buying a second one because I am so obsessed and if my business ever implodes at least I'll have a spot to put my booze. I put together a list of the ones I love and the one I have HERE.