How I Make Graphics on Canva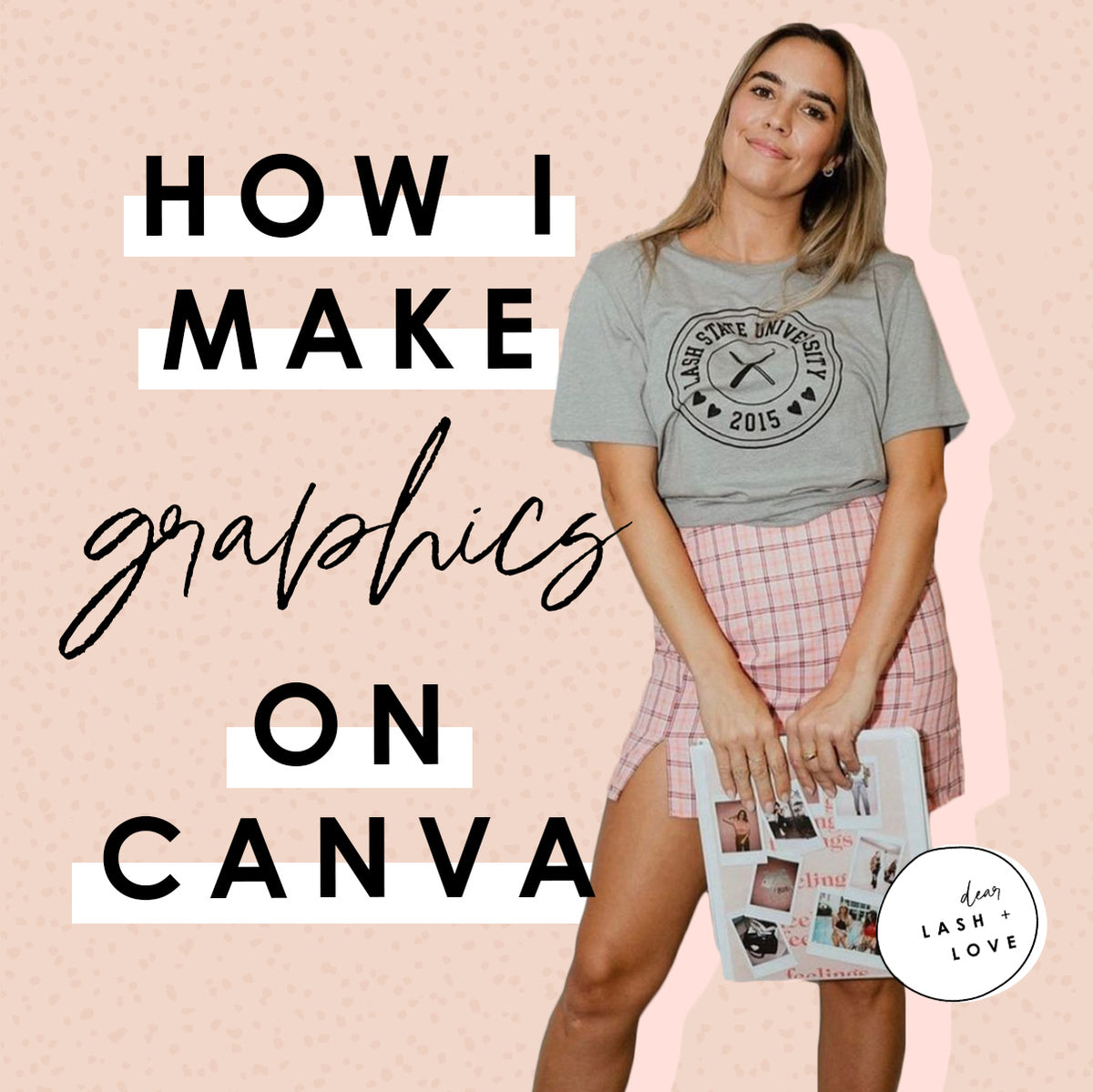 This blog is long overdue and also something I'm so INTO for business owners, creatives and anyone wanting to create graphics easily and on the fly. My mistake for not writing it sooner, but it's happening now, so I hope it's helpful! I definitely recommend pinning this post so you always have it to refer back to later!
I started using Canva in 2013 (I just totally aged myself LOL) when I first started my journey to lashing and skincare. I somehow stumbled upon it and immediately was very into it. This platform seriously helped me build my brand and aesthetic without having to hire out a graphic designer and the drag and drop, fully editable templates honestly made it even easier when I had no clue what I wanted to create. 
But let me back up for a second. First, what exactly is Canva? It's a platform where you can create graphics, newsletters, business cards and even logos based off templates they already have or by creating your own using their very simple drag and drop design method. It offers a wide range of "themes" in any color you could ever need and even stock images that I think are underrated. 
Who is Canva good for? It's great for anyone (I'm speaking to the beauty industry but this really applies to any industry) who is looking to create with ease and on a budget. It's for someone who maybe doesn't have the best "eye" for design, but still wants to have beautiful graphics. You can make things as simple or as custom as you prefer too, it's just about learning to use all the features/tools it has to offer.
OK, so, how do you work it? I'll do my best to explain and break things down step by step using an Instagram post as an example.
Step 1
Create an account and then on the homepage, you'll see tons of templates that go on for days. What I suggest is scrolling through and keeping a lookout for what catches your eye, what fits your style and what you naturally gravitate towards (if you're unsure what style graphics you want, Pinterest boards help me with this and I love creating them when working on finding my brand aesthetic). You can "heart" your favorites and go back to them but make this your first step!
PRO TIP: Make an iced chai and do this on your off day so you don't overwhelm yourself and actually enjoy the process of creating. 
*I recommend the upgrade - it allows you to take any image you make and instantly resize it and gives you better stock photos and features. I use the resizing a ton when I want to make one graphic for IG, then turn it into a newsletter size and Pinterest size.
Step 2
Pick a template that is for "IG posts". You can do a search for this and choose one that goes with your style and aesthetic. Today I'm picking the "Sunday Mood" template because it goes with my style - pink, collage and fun.
I immediately change the font to one that is more on brand and usually choose one like "Glacial Indifference" because it's easy to read. 
Step 3
Next I'll change the photos. You do this by uploading your own images on the left hand side and dragging and dropping them into place.
Step 5
Then I'll tweak the colors a bit and customize it a little more. 
Step 6
Lastly, I give it a name in the top right in the blue box. Something like "IG post Sunday mood" and then click download > save as JPG and it will save to your Canva homepage and also download a file for you to have on your computer.
PRO TIP: I save all my graphics to my phone (download the canva app too! You can access everything you've created on your account on your phone!) and add them to a folder titled IG. It gives me easy access to graphics and allows me to scroll and re-share if needed. 
Here's a before + after so you can see the difference. This literally took me under 5 minutes. 
BEFORE
AFTER
My last tip is to not try and recreate the wheel and start from scratch when making your own graphics. It can be so overwhelming and discouraging (unless you are at that point and ready to try!). Just start with templates, adjust colors and add photos and you'll be amazed at what you create! :)
But also, if you have a lash brand and you're too lazy to create your own graphics, or just need more, remember I do have 10 free ones here that you can use for so many different things!
I hope this was helpful!