Things to Read Over Your Holiday Break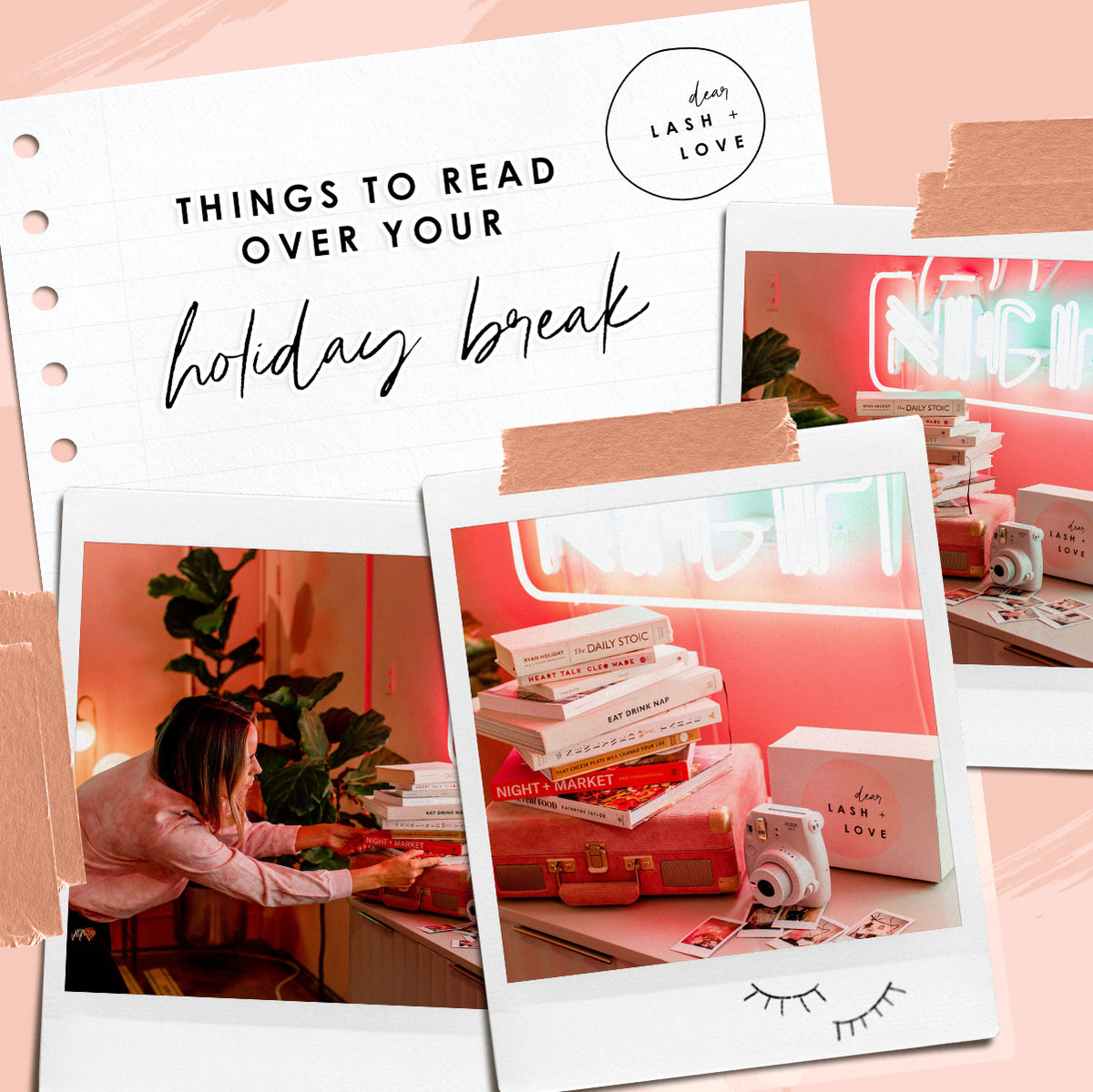 Now that I am feeling like I can KIND OF slow down, I want to share books I've enjoyed reading over the years plus cookbooks/coffee table books that have become a staple in my home to help you unwind, too. 2020 has been the year for reading and cooking for so many but my tastes have always remained the same. Simple recipes and murder mystery/romance gone wrong books LOL.
If you're wondering why in the world I'm sharing books and not lash biz tips, Dear Lash Love really has evolved from a product-based brand to more of a personal diary of my day to day life with of course a heavy emphasis on all the amazing products we launch and business insight I share. It felt most authentic to me to eventually share both, which is why "where lashes are a lifestyle" has become the new brand slogan.
Yes, my brand originated from my career in the beauty industry/lash extensions but to be honest it's always been more about making women feel good, empowered and motivated to live their most authentic life. This includes loving your job, finding ways to better your business, stay educated, stick to routines, being a more thoughtful friend and partner, trying new things and feeling content with the place you are in life right now. I enjoy sharing personal ways I stay focused, centered and, for the most part, chill and reading and cooking has been a way for me to stay grounded and not become to work focused.
As the brand has evolved, so have I, which is why everything is not just about lashes anymore. I'm about all things that any woman like me is about: beauty, fashion, health, wellness, business, personal life and my dog, haha.
With that being said... I want to share more than just lashing tips and business how to's because it's just not healthy to only focus on those things. So, here's a list of books, cookbooks and coffee table books I LOVE and have and continually use.
Cooking + Lifestyle Books
Joy of Cooking 75th edition: I bought this the weekend I got engaged, which was less than two months ago and we've cooked at least 10 awesome recipes from here. Yes, it is expensive but it's a piece I'll have in my family forever and something I'm so proud to own. The recipes are simple, straight to the point and old school. Try the Beckers chicken soup, chicken parmigiana, coconut curry, scrambled eggs with paprika, sweet and sour brisket, pecan pie, green beans and turkey. 
Eat Drink Nap: Have you ever experienced a Soho House? I've been to the Malibu and Hollywood location and both completely nail aesthetic and food and drink experience. This book allows you to "bring the house home" and I recently made their fresh Moscow Mules for Thanksgiving. DELICIOUS. Who doesn't want to impress guests with homemade ginger syrup for cocktails? I've always been a little lazy when it comes to this stuff, but this book inspires me to add personal touches to dinner parties big or small. 
Books That Changed My Life but Aren't Super Cheesy
The Daily Stoic: I love self help books but also...don't bother me lol. This daily read just makes you think and sit for a second and I like that. I also appreciate that it's just one page because thats all anyone has time for.
Essentialism: Makes you want to deep clean your home and your contacts list and also puts into perspective that less can be MORE fulfilling. 
Heart Talk: Cute poems about love
Untamed + Love Warrior: So many yes moments reading these books by Glennon Doyle. Talk about wanting to scream from the rooftop afterward. 
Easy Couch Reads/Vaca Vibe Type Reads
When Life Gives You Lulu Lemons 
Biz Books That Never Get Old
You can always check out
my Amazon shop
too for any books I'm reading!