What's In My Dear Lash Love Go-To Carryall Bag and Why I Created It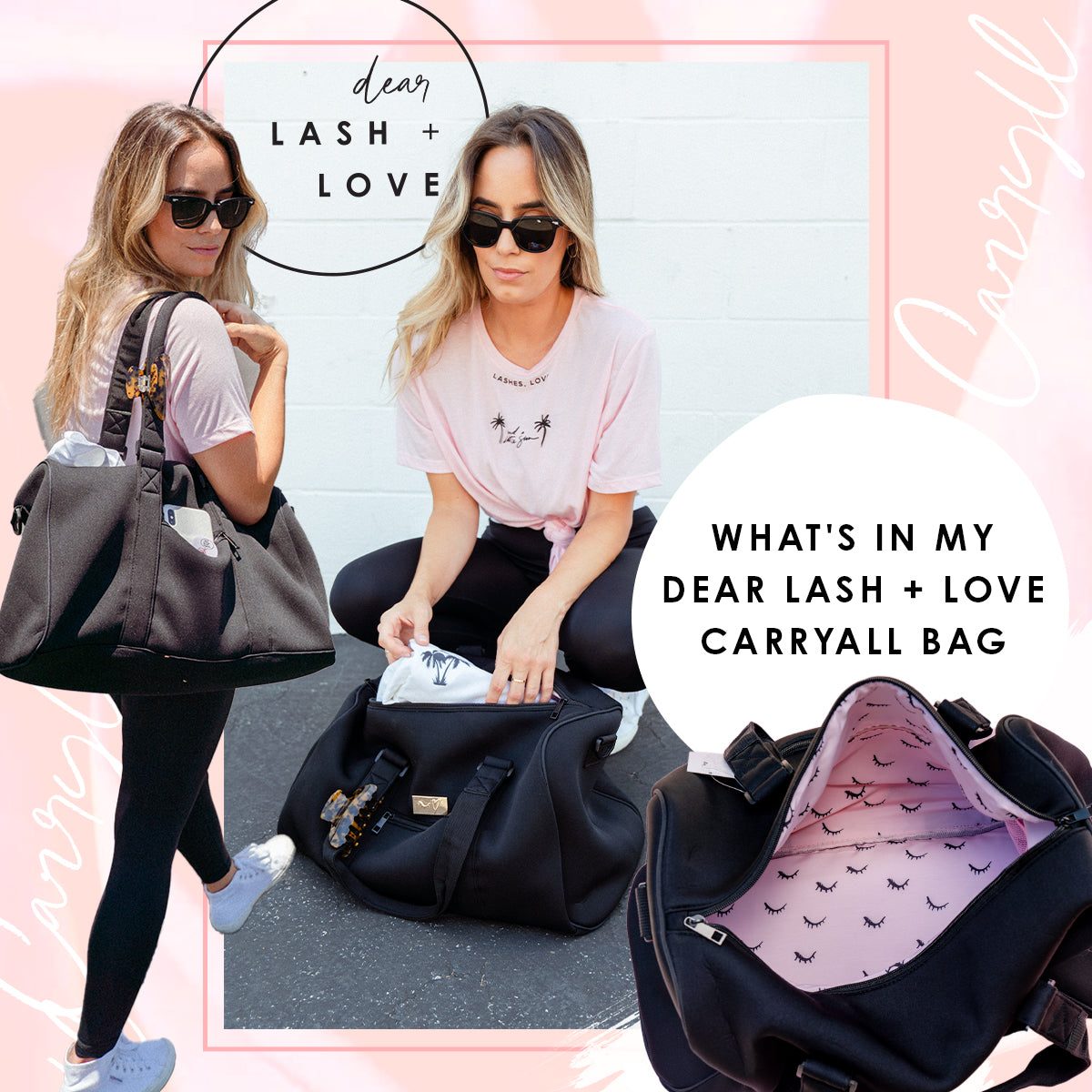 By now you've heard me talk about the
Dear Lash Love Go-To Carryall
. It's the bag of my dreams, to be honest. And I'm not just saying that because I designed it. After designing and perfecting lash tees since FOREVER ago (2015) I wanted to add something to the site that was one size, one style and universal. Could I have launched something like this sooner? Sure. But I wanted to give myself time to do it right and build enough with trust with you (my community) before creating something entirely new. That' the thing with creating a product. You have to have the customers who are ready for it. 
If you've been on the fence about the bag I want to break it down for you:
It's lightweight and chic on the outside ( I even added a gold plated logo on the front to turn it up a notch), organized on the inside and it's ready for wherever you want to take it. It has a mesh panel for shoes, a zipper pouch on the outside for your phone and keys, as well as two extra pouches inside for any other goodies you can't live or lash without. ( One of the pockets actually does fit an iPad)
The best part for me is the outside fabric because I didn't want it to get ruined or marked up easily so we decided on Neoprene which is kind of like a wetsuit material that's been super trendy lately. I like it because it's easy to wipe and kind of shock absorbent and squishy. (You'd have to feel it to see what I mean)  I feel like the neoprene kicks it up a notch style-wise compared to traditional canvas options. Oh, and a pink and black lash interior makes it super sleek and trendy. ( I couldn't forget about the lash interior) 
A few things I thought about when I was launching this bag that you can carry over into your own business:
+What would it be used for?
+Is it a NEED
+What would be the cost (account for possible discounts)
+Tagging and packaging and shipping UGH.
I also wanted to link what's actually in my bag currently...get ready. These are all my must haves at the moment. 
You can shop the bag HERE
Beauty
Fashion
Amazon
My Site 
Snag the bag and all the things that are in it and thank me later xx