Artist Feature: Q + A with Esthetician Sierra Ostler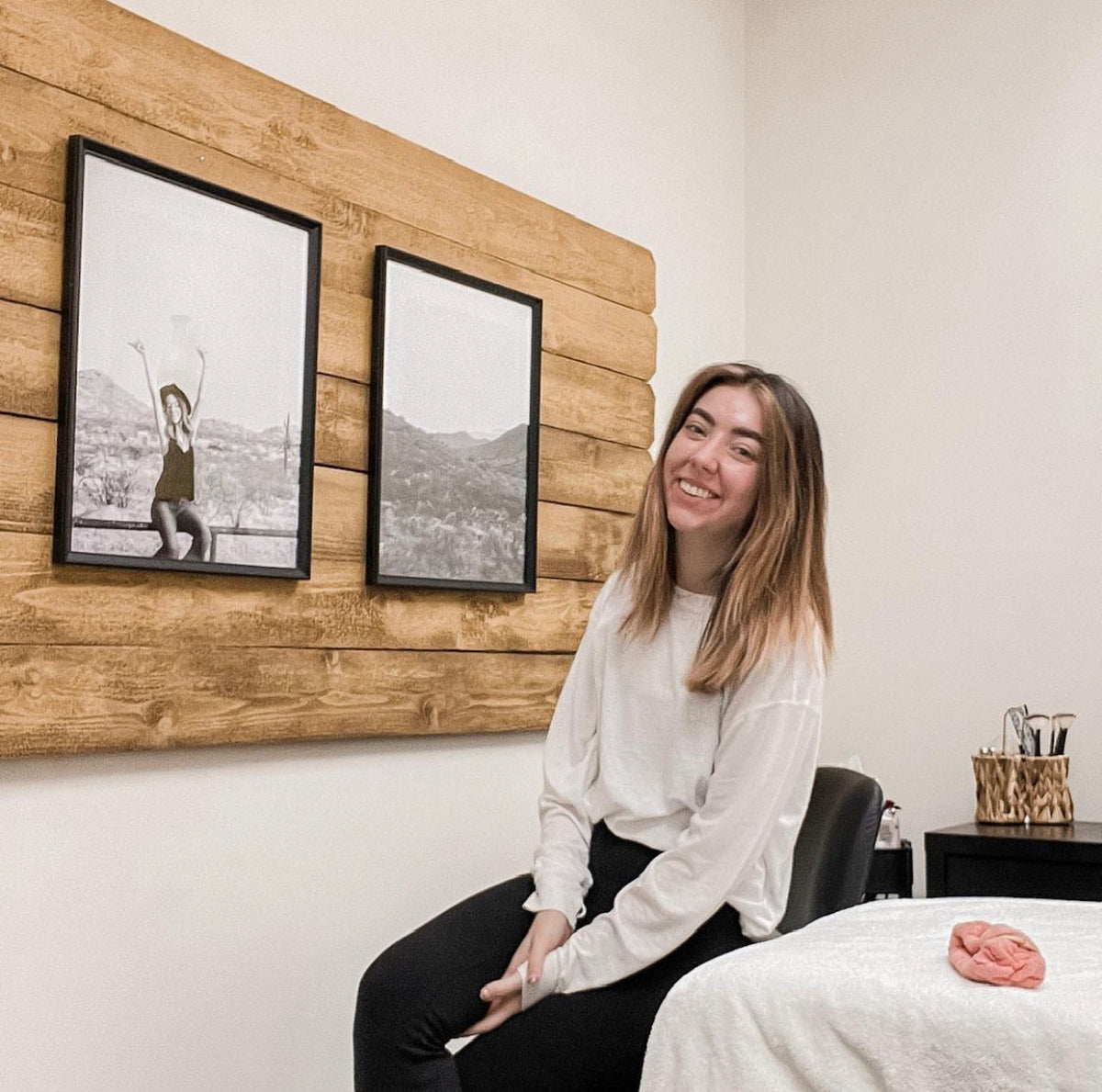 I'm so excited to be bringing artist features back to the blog- and to spotlight beauty professionals in our industry that I find inspiring.This week I chatted with Sierra from @soc_skin about her desert island skincare routine and ways to create a workspace you love. (Also, shout out to Cosmedix- we both love their products) 
You can follow, support, book an appointment & even shop from Sierra
here
.
Read on to see what she had to say:
Her ride or die, desert island skincare - 
1. Gentle Clean from the Cosmedix Elite Line 
This cleanser is amazing for a first cleanse to remove dirt, oil, and makeup. It is fantastic at gently cleaning skin during the second cleanse. It's gentle enough for the most sensitive skin types or post-procedure, but also a really good deep clean for normal skin types! 
2. Serum 16 from Cosmedix 
This is the retinol Kim Kardashian uses! This Retinol is encapsulated in a fatty lipid, so when it is applied and moving through the layers of the skin it is actually moisturizing the skin at the same time. The delivery system is unlike anything I've seen on the retinol market. I  have never or had a client ever experience the normally dry, flaky, red, sensitized skin you can experience from retinol.  
3. Humidify from Cosmedix 
A true holy grail for me and my clientele is Humidify. This deep moisture cream is perfect for dry and dehydrated desert skin. It's not too heavy on the skin and doesn't feel greasy over time. I  have been using it at least nightly for the last 2 years, and haven't experienced any dryness here in Arizona. It is also safe for my more acne-prone clients who need moisture in their routines! 
Her best tips for setting up her space for clients -  
- Make it something you love! If your love for your space will radiate and your clients will love it too! 
- Make it warm and comfy! You can do this through your color scheme, a big fluffy bed, or through small pops of color throughout the room. I  believe that a lot of times estheticians believe that we have to be in this clean and sterile-looking environment, which can be daunting for a first-time client. If anything, having fun with your space and allowing it to represent you and your brand can be a determining factor in a client choosing you!
- Avoid large amounts of clutter. If you are cluttered and disorganized it will give that feeling and impression to a client. If you're not a type A that's fine too just make sure it's organized in a way you understand outside of the client's view.  
Other Tips - 
- Show up every day. One of the things I have done since the day I opened is show up and be consistent. Whether it's on social media, in the treatment room, or just in communication with your client, be all there. Make sure your clients know you've got them, while of course keeping your boundaries ;)
-Sierra Ostler 
@soc_skin