Beauty Spaces Killing the Aesthetic Game + Tips to Create the Same Look in Your Own Space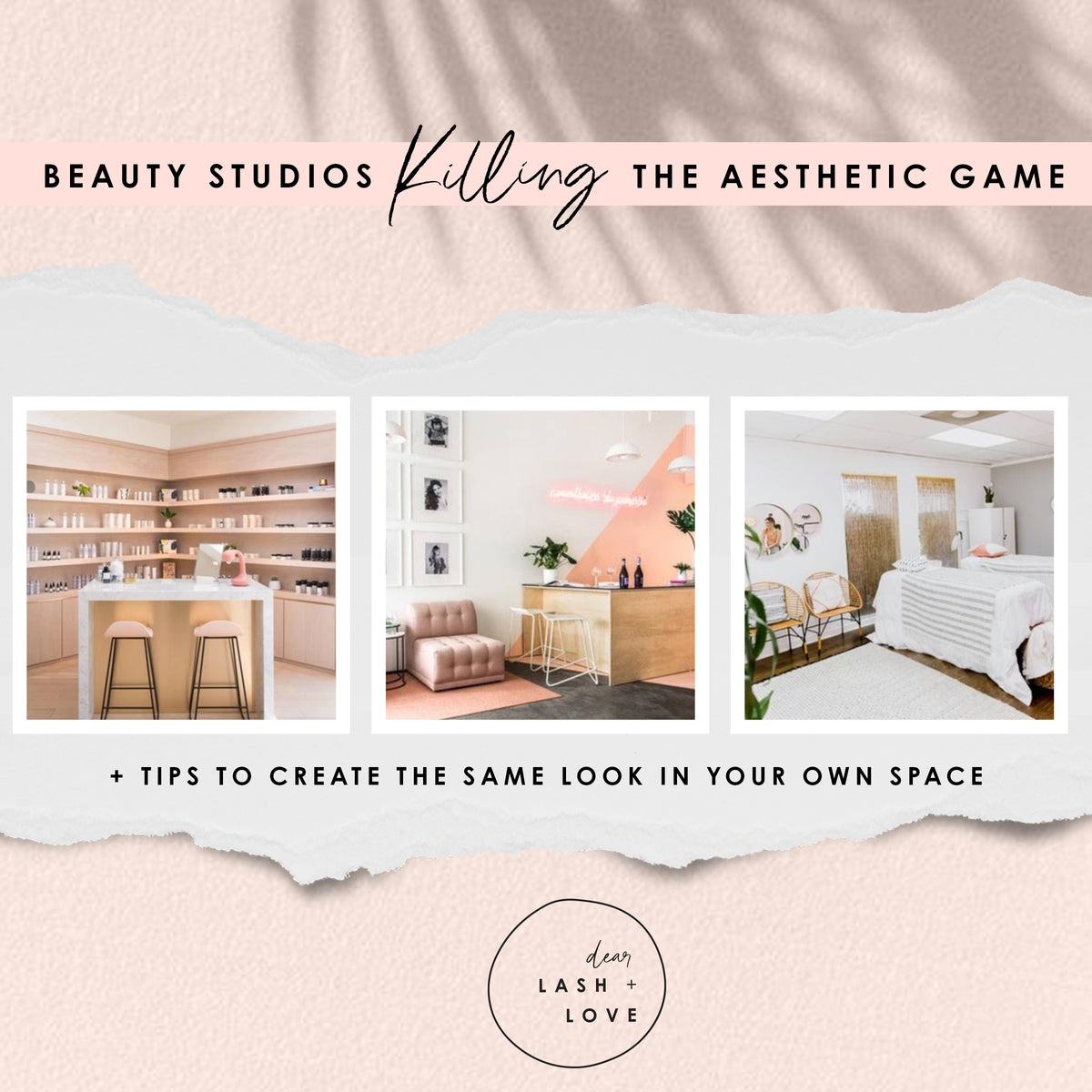 My name's Lorena and I am an aesthetics whore.
Because of my obsession with aesthetics, you can imagine how excited I was when I finally got my own lash studio. It was a blank slate and something I could really put my mark on. Different than home decor, which is fun, but if you're like me, you have to be courteous of the male energy residing in the space with you. So my lash and office space got to be ALL ABOUT ME (and my clients, too obviously). I got to put my creative girly touches on everything from the paint colors I picked to my pink couch I eventually splurged on. I even went so far as to add a pink mini fridge on my desk with a secret stash of mini diet cokes because I have one life to live and want to keep it fun. Simple things like this keep me happy and inspired, which means I can create and be excited about my business.
When I am looking to decorate or feel inspired, Pinterest is my #1 go-to (I even have a dedicated board just for beauty studios). And because I'm a girl on a budget I am always down for a hack or a less expensive option, so sometimes Pinterest is strictly to pull together my vision so I can then turn around and find pieces that don't drain my bank account.
Spaces I look to (and you should too!) that are absolutely killing the aesthetic game and help give me ideas include:
Facile Skincare
This space is funky, cool, girly but packs a huge personality punch. It's a specific style and while it is more high-end you can easily replicate it with paint, a light fixture, all wood shelving and funky furniture on a budget.
Studio Benicky Salon
The clean and simple wood accents and retail on display so clients can see it is giving me life! Is it bad to say I also prefer to sell products that come in aesthetically pleasing packaging? Obviously the product itself matters the most, but definitely something to consider!
Other details you can never go wrong with are a good large mirror, baskets, cute stools and plants! Here are some of my picks for you to achieve a space like this:
Lacquer Nail Bar
This space is modern and girly but inviting with the plants and wood reception desk. If you can't splurge on a reception stand, get a desk but always have a place for your clients to sit while they pay, buy product or re-book. Clients need direction in and out of your room so make a designated area for them beyond your treatment bed or beauty station.
If you have tons of wall space, a gallery wall is an inexpensive way to fill it and show your personal style.
Hot Tip: Print pictures from any content shoots you do and frame (love these simple frames), then swap out each season. This will change the look of your space without buying new stuff all the time. 
Dear Lash Love
Of course I had to plug my own space. I decorate on a budget and rely heavily on paint, mirrors, pillows and accent pieces. My favorite statement pieces in my space that are budget-friendly include:
Pink couch ($340 but turns into a pull out bed lol) 
Also, have you ever noticed that a room just looks more alive with plants? Personally, I do fake because I kill everything and Amazon has a great selection. Linked some for you below as well as above!
You also want to keep your color palette top of mind. I've kept it consistent with the colors (I did however accidentally go rogue with the rug below and ended up selling it) but love to swap out vases, pillows (like the mustard yellow one in the picture) and smaller pieces when I'm feeling bored.
The point is, I pull inspo that I love and make it my own. Don't be afraid to be inspired by someone else and then put your own spin on it!