How to get your space ready for clients again.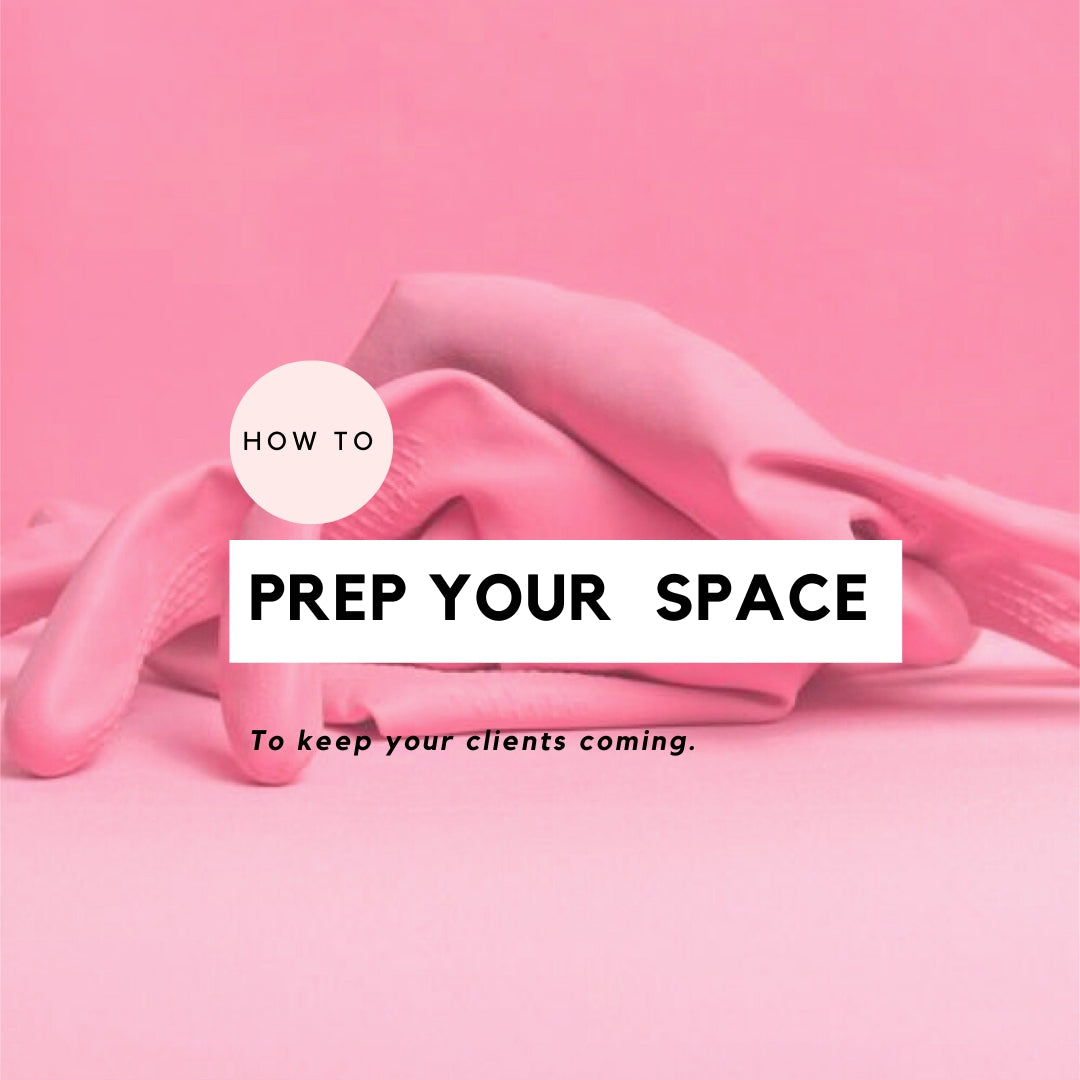 COVID-19 may not be coming to a close, but it is time for your lash space to re-open. Many states are back up and running and that means back to work, seeing clients and making changes. With any big life change, there will also come lifestyle changes, and that has never been more true than it is now. So, what exactly does that mean for reopening your space? It means SHOWING up! Your clients are going to be holding you accountable and expecting attention to detail. Gone are the days of skating by and expecting clients to show up on your doorstep. We're going to see a shift in who can really survive as a true professional moving forward.
Ive made a list of 10 things you are going to want to be sure to check off your list before reopening. If you've already reopened, no worries, all these steps can and should be implemented ASAP.
CLEAN. I mean, the 409, scrubbing with the rubber gloves kind of clean. Depending on your situation it is possible that no one has even been in your space, this does NOT matter. It is so important to sanitize everything. This includes countertops, door knobs, light switches, EVERYTHING! You want the space to be 100% sterile so it is a safe environment for people to come to. Gloves, masks and face shields are also going to be non-negotiable! (Crazy, I know but something to consider) 
CLIENT INTAKE FORM. It is possible you never had one to start with, well, now is the time to create one or update your old one. You will want to inform your clients that you are doing everything you can to keep them safe and healthy, but of course there is always a risk.
LEGAL. Each state and country has different laws, regulations and rules that will be evolving during and after the pandemic. What that means for you is you need to stay current. It is your responsibility to know what the laws are and that you are following them accordingly and enforcing them. Watch the news, read the news, stay informed.
TRAINING. Now more than ever there are TONS of online courses, trainings, IG lives, etc. So much FREE and easily accessible content for you to be learning and growing as an artist. Take advantage of these resources and further your education.
NEWSLETTER. What a great time to reconnect with your clients, old and new! People are desperate for human interaction and sending out a newsletter is a great way to communicate with the masses. This can be anything from letting them know your updated business hours to a discount they can use at their first appointment back. Just reach out, they want to hear from you.
PROCEDURES. The way your day to day operation runs is most likely going to look different post pandemic. You may want 20 minutes between clients to re sanitize instead of only 10. Things like this will change how your whole day and business is run but it is best to consider this before going back so you can plan accordingly. I think gone are the days of slamming your day to make $$. It's just not worth it and there's more on the line now than just your hangry state of mind LOL 
INVENTORY. What do you have that is old or expired? I am sure lots of you will have to dispose of adhesive and other products that are no longer safe to use. Once you know exactly what you have remaining you may need to order supplies. Keep in mind that deliveries are often postponed or moving slower than normal so this is something you will want to account for ASAP.
FREE UP THE CLUTTER Now more than ever you need to figure out the best use of your time in and out of your room. I always say better to kill it at less then be mediocre at 20 things. Condense your menu and get clear about what you want to keep offering your clients. 
SHOW UP as a leader and remember that your clients are trusting you to take care of them. If you're not emotionally ready to be there for them please take care of your mental health before anything else. Create a space that is safe and relaxing for them as best as you can. 
HAVE FUN. Yes, this is a CRAZY time, but let's all be thankful that we have a career that is waiting for us and a clientele that is dying to see us! We got into lashing because it makes people happy and we want to be of service to them. This is the chance to start fresh and show our clients what we did with our time away from them.
A great resource is Barbicide. They have FREE courses and information to help you gain more knowledge on sterilization and cleaning procedures.
For more information on Barbicide click HERE
I also want to tell you about Lash Affair's Lash Safety Course! The course provides the information needed to recognize and avoid hazards that can be encountered during professional beauty services. It's designed to cover a wide range of health, safety, and sanitization topics highlighting professional eye services. In this course you will learn eye anatomy, eye conditions, contraindications, sanitation, adhesive safety, use of a MSDS sheet, recommended safety kit supplies and how to create an emergency plan. They also offer lash and brow lift courses which is major if you're wanting to add these services to your menu. HELLO UPSELL!
These course aren't  free but I highly recommend taking them. Great news; I have a discount code for you! DLL15off for 15% off the course.
For more information on the course and Lash Affair click HERE
For the latest Beauty Biz Bffs PODCAST that talks more about this listen HERE
Lorena