How to Style the October Tee + Shop the Photoshoot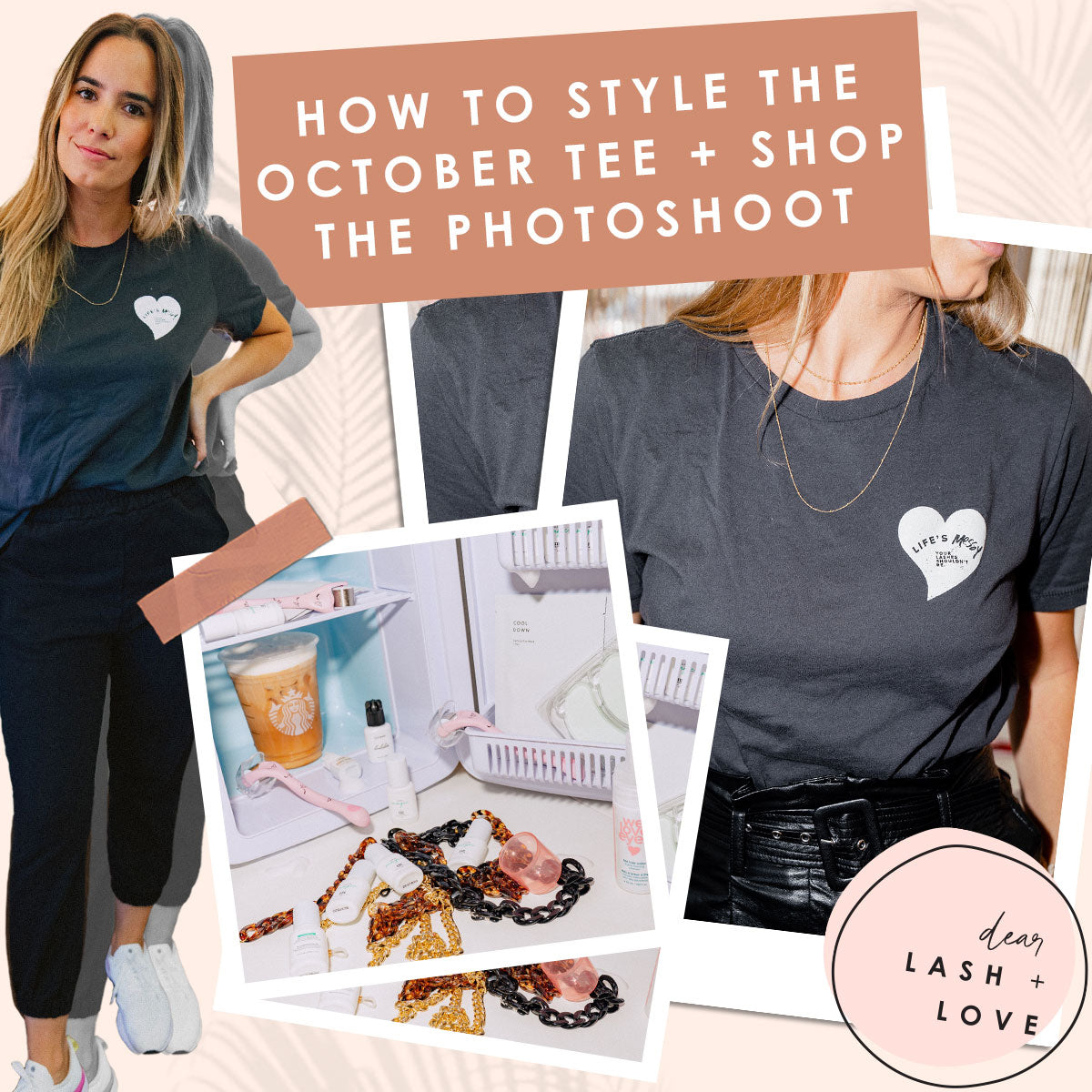 How about that October tee, am I right? I was feeling very inspired by the beauty of lash products and flat lays for this month. As a lash artist and creative I'm always searching for aesthetically pleasing supplies, decor and anything that can be used on clients but can double as props for shoots as well. What I try to show you through these shoots is how to expand your creative mind to look beyond lash imagery. There's nothing more beautiful than a set of fluffy, full lashes but DAMN... photographing lash supplies in unique ways is so fun for me.
Because my brand truly is for everyone, I also like to share other lash brands I'm loving. Whether it be a new adhesive that caught my eye or tweezers you guys tag in my comments or share with me or maybe it's just a sleek organizer for your under eye pads. Whatever it is, I want to share it and in an aesthetically pleasing and Instagrammable way.
So this month's theme was obviously switching to fall with a basic b*tch cold brew coffee and lashing must-haves from cleansers to tools. Life's messy your lashes shouldn't be - meaning keep your sh*t organized at work and at home and most importantly... keep those lashes clean. 
Huge shoutout to We Love Eyes for gifting every tee club member a lash cleansing set. If you peep their logo, you'll see we used the same heart on the tee graphic. 
Other brands I'm loving and used in the shoot are linked below!
One of my readers/community friends, Hashtag Hannah, created these cute mask chains and reached out to tell me she was inspired by me to do this. I had to run to her site to purchase and they came just in time to drop in some photos. 
EBL adhesive, Untamed Artistry adhesive and Borboleta Beauty - all O.G. lash brands that took over my shoot and produced some of the most beautiful lash supplies flat lays and brought my vision to life. If you can't stop staring at the images, go check out my Pinterest for all the vibes I save for inspo.
The Dear Lash Love x Glow Skincare LA mini cold roller is perfect for selling to clients and using to make your lash services feel luxurious. Simply remove the under eye pads or tape and cool the skin down with the cold roller after. I can guarantee your clients will want to take it home. 
I have to give the mini fridge its own moment. This one's bigger than a mini but not quite big enough to have at home, but regardless, it sits pretty on my desk and would make a great addition right next to your lash bed. You can keep snacks, drinks and your cold rollers or back up adhesive in it (just check with the company for temperature precautions). I LOVE THIS FRIDGE and have three! LOL
The storage I bought for this shoot ended up being so good I had to share. I'm pretty over open lash carts because for one, they're so noisy when you move them and two, you have to keep them very clean. The ones I linked are gorgeous, simple and allow for a ton of supplies (like the sparkly mascara wands I have) to be organized. 
As for how I styled the tee, nothing says fall more than leather pants and boots. In general though with my tees, I love wearing them tucked in with trousers for work and that's exactly what I did here!