My Lashing Must-Haves From Tools to the Comfiest Clothes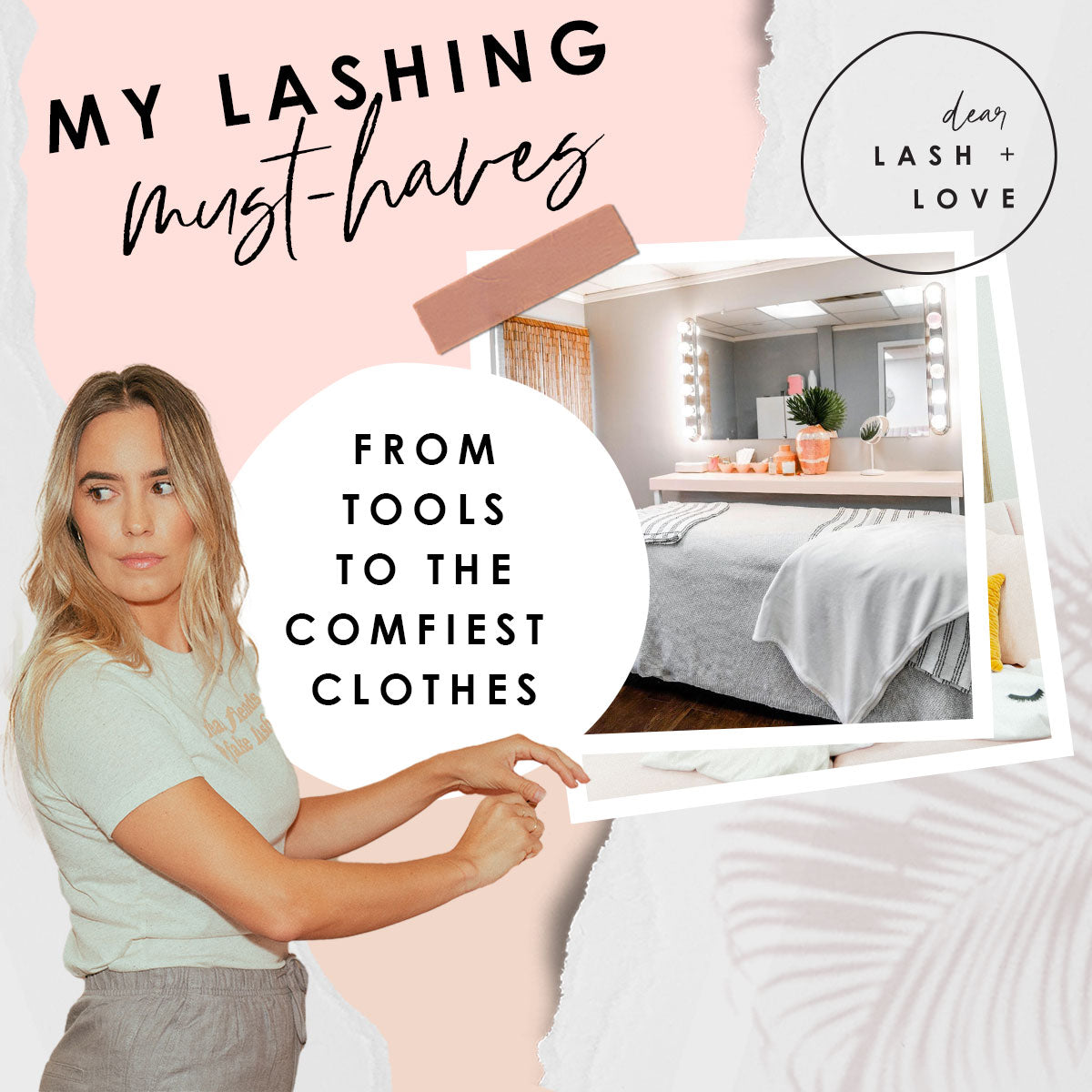 Today is all about breaking down essentials for lashing because it can be SUPER complicated. There are so many tools, adhesive options, lashes and then there's things you need in your room to lash properly (including comfortable clothes!). I won't get into too much detail (at least not yet - want to do a deep dive later on about the tools piece of things) and will just list things I've used from the beginning and link a few brands I love. If you are just starting out this blog will probably serve you the best. 
Lashes supplies
There are way too many brands to list and I will have so many more to share in the future but if someone asked me to rattle off my faves in five seconds, this is who I would list: Borboleta Beauty, J Brand Beauty, EBL, Lash Makers, Revolashion, Wink Lash Products and Lash Affair by JP and recently, Untamed Artistry.
To be honest, I think a lot of these companies back their products by a TON of hands on research and put the time into really dialing in what it means to create quality lash extensions and adhesive. Of course there's trial and error, but putting in the time yourself to research the brands that do it right is SO important for your business. If you purchase from any of these companies, I'm confident you'll feel happy with your order!
And if you're making a list on what you need to order from these brands, here's what I would recommend.
You'll need tweezers (at least 2 sets), lash trays (start with popular curls FIRST and try the mixed lengths if you're just starting - always mixing three lengths of course), a lash mirror so you can check your work, a Nano Mister and fan, mascara wands always flowing, adhesive wipes to keep your nozzle clean, gel pads to keep the bottom lashes locked down and the right tape in case the pads are slipping (always have back up of these - if you run out you're screwed...don't ask me about the time I had to use scotch tape...or do. It's funny now but also cringeworthy).
Room essentials 
As for all the things your room will need that are technically "non-lash" but still 100% necessary, here's my go-to list.
Acrylic organizers for storage - Love this set from Lash Artisan or this set for something more budget-friendly
Disposable towels called Wubbies for under the client's head
Memory foam topper and leg bolster 
UV sterilizer to sanitize tools
A ring light for eye catching pictures
Glass canisters for mascara wands and other sh*t
Massage table  make sure its sturdy and one you can put your legs under. This is IMPORTANT. 
Stool with a back and ergonomically correct saddle 
Two items I love to lash in
Comfy pants and sneakers that are nice enough to wear to work but can also be worn lounging:
And if you're a scrub kind of girl FIGS has super cute fashionable scrubs you can wear.