Ideas for Showing Your Clients Love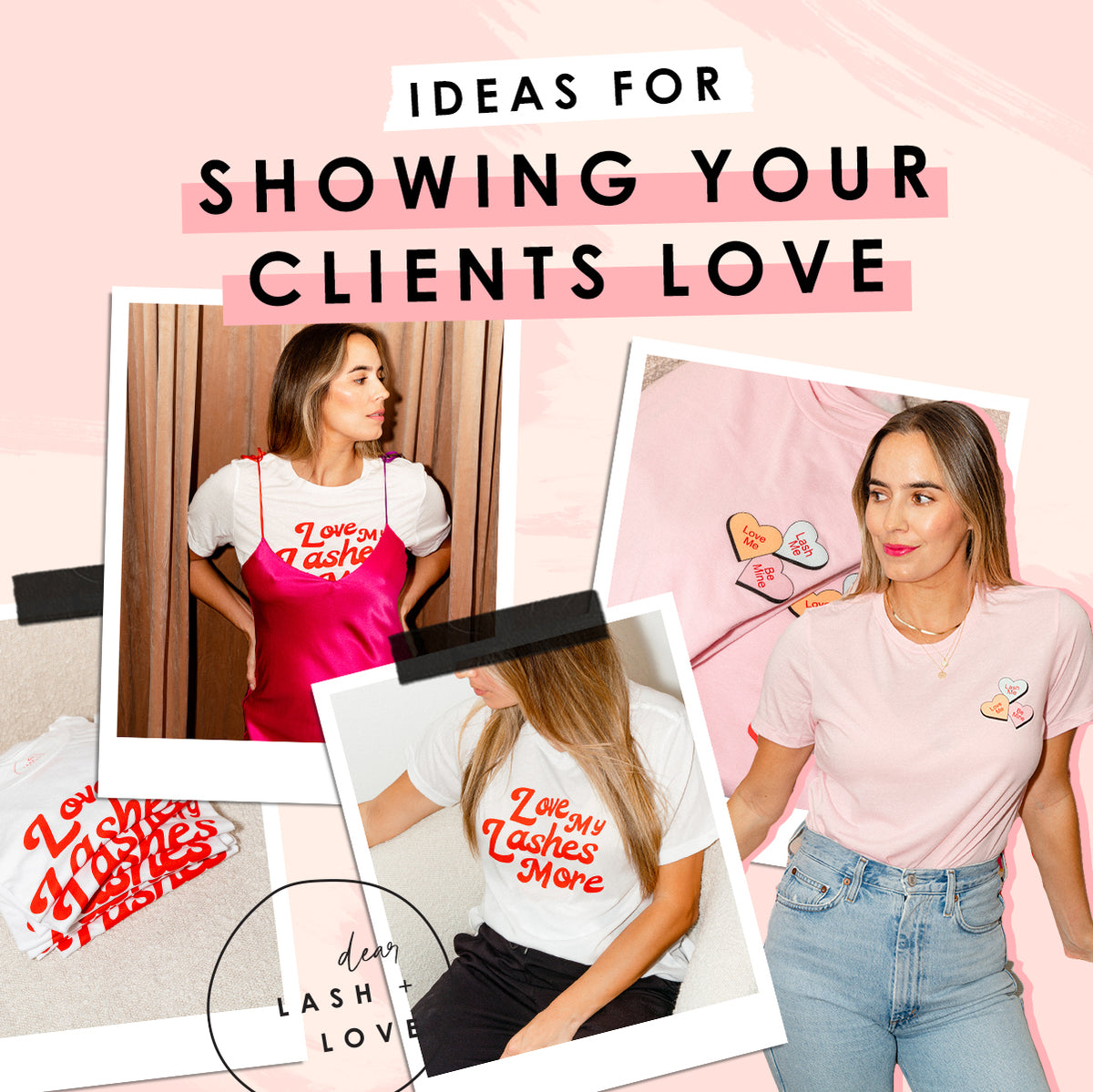 Clients are what make our world go round and keeping them is just as important as getting them. When I first started taking clients in 2013 I was a brand new esthetician and worked at a massage chain. I didn't actually love that job but I did gather so many takeaways from the experience and the most crucial was client love and the importance of re-booking clients.
For me, giving that love and getting re-books starts with connection and direction. Finding easy, but meaningful ways to get to know your clients and also directing or leading them so they feel safe/seen. This comes with a kind of inner confidence that grows over time. It's knowing what you're doing and how to do it that helps with this, too. 
While product knowledge and a skillset to back it is so important, I've got to be honest... it's that X factor that can't sometimes be taught that really hooks clients. It's the ability to nurture, command presence, lead, listen, relate and make your clients feel safe that I believe will keep them coming back long after their first appointment. It's the way you introduce yourself, how you dress, how you follow up with your clients or share insider tips with them. It's making them feel like they're the only person in the room - like they are the most VIP in that moment. 
If you're sitting there reading this thinking, damn I could be doing better at showing my clients love, don't sweat. Here is a list of things I always keep in mind to make sure I'm treating my clients like gold. Also, this isn't just for lash artists, but any profession in the beauty industry!
+ Show up happy to work (never let them see you sweat).
+ Dress to impress - your clients WILL notice.
+ Be ready to work - not flustered or late.
+ Give yourself time so you can get in your groove.
+ Remember the little things - their kids, family, hobbies and who they are as a person.
+ Give them something to look forward to. Whether that's playing their favorite song, offering candy, a drink or additional services. 
+ Offer them add-on services and retail to purchase - this comes with that confidence I mentioned earlier. It's knowing that your clients need what you're selling ;)
+ Lead your clients! From start to finish, I guide each client through a service. I always say what we are doing that day and ask if she has any requests or changes. I love mentioning any new trick I've learned or style I know they'd love. Clients love to hear that you're still learning and keeping up with trends! Even if I've been seeing a client for years, I always do this. Never get too comfortable with clients - the moment you do is the moment you could lose them. I like to keep my appointments structured because at the end of the day, I am still a professional and want my clients to know that no matter how long I've been working with them.
+ Bring out the bells and whistles - candles, cute signage, branded business cards - all the little details that can be done on a budget I make sure are front and center for my clients to see. I can promise you that in 2021 these things matter! Clients want to walk into a cute space; its just the reality of today.
While I've had a ton of experience with this I always want to share other perspectives from women who live it and breathe it too. Below are some majorly helpful tips from other artists in the beauty industry. Take notes, ladies! These are things you'll want to always keep in mind when serving clients.
 @macklashmob |  @wowbeauty.d - I like to text my clients after to see how they are liking their lashes/if they have any questions and I think that's huge to check in with clients afterwards to make sure they're happy.
@archenvyacademy - I always aim to provide the most comfortable and luxurious experience possible. I want my babes to feel like the queens they are!
@thebeautifullifexo - I try to give clients options to enhance their beauty in a way that they feel comfortable and fits their lifestyle. A customized lash set is essential when it comes to clients feeling like they aren't just another face in the room.
@sharastevenson - Newbies - I give a follow up call to see how they liked their service. Any questions or concerns. Regulars - I ask them during the service if there is anything they want me to change about their service. I do this so not to assume. I'll text a client about a job promotion or wedding proposal they spoke about. Lately, I've been texting or calling my clients to check on them. How are they feeling emotionally and mentally.
@casanailvaa - I do little goodie bags for holidays sometimes like V-day, Christmas, or just randomly to show them appreciation! Honestly without them I wouldn't be booked so I like to do little things.
@mavenartistry - I never booked back to back and always allowed time to reset/refresh my space between clients. Everything they saw was spotless.
I hope this was helpful and you found some actionable tips to take away from it. If you have a tip to share, please do in the comments! The more the merrier!