Tips For Promoting Wellness Within Your Business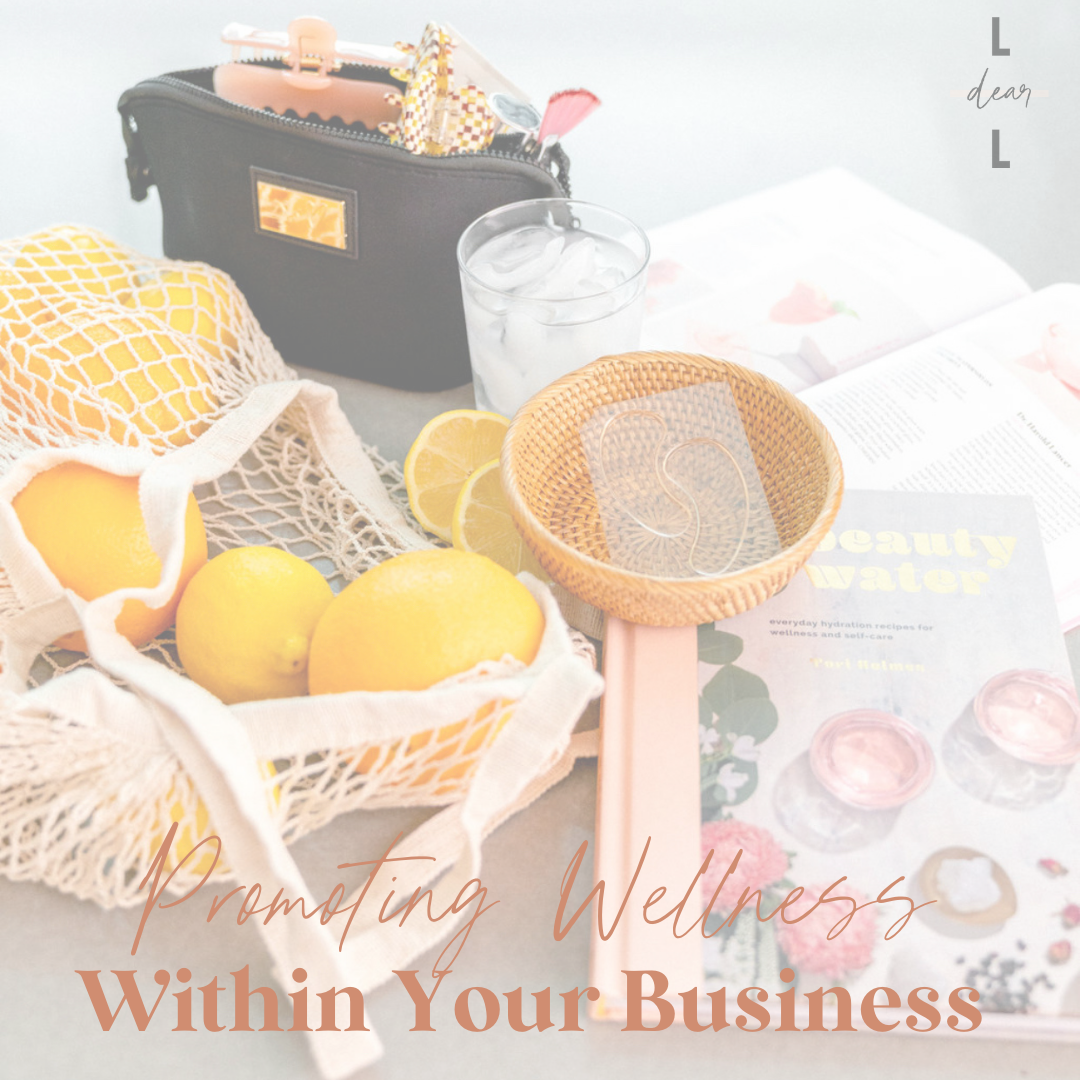 Now that I am juggling work, motherhood, and everything else- taking care of myself is essential. Today I want to share with you the ways I have learned to create wellness for myself within my own business. Wellness within your business is vital to longevity in your career, as well as your own mental health and success. 
As service providers we are expected to give all our attention, focus and energy to our clients when they are with us; to make sure their service and experience leaves them feeling better than when they walked in. On top of that, day to day management, inventory, marketing, client retention, social media, cleaning and organization on top of caring for our clients and also our own mental wellness, and all of the extra responsibilities that land on our shoulders as service providers and business owners aside from our typical job of simply serving can be exhausting and overwhelming. 
What I've noticed in our industry is the mentality that hustling means you're successful, and that overworking yourself to squeeze clients in is what has to be done to grow a clientele. I know that for many of you- you've put your clients first, sacrificing your own well being to make sure they are happy. Or the focus has been about being booked and busy- not about the wellness of your business as a whole. This is the clearest path to burnout.
The goal as a beauty professional is to ensure longevity in your career and making sure all aspects of your life and business align in a way to make this happen.What I'd like to share with you today are my top tips for you to create wellness within your own business so that you can successfully serve your clients without feeling depleted. 
Start with simple daily routines that you can actually commit to
My biggest tip is to avoid rushing your day and start the day by breathing. I'm not saying you need to do yoga and breathwork each day, what I mean by breathing is actually breathing. I found when I would take clients full time that I was rushing my own life and holding my breath a lot. Remember, you come first. Make sure you pack a lunch or your favorite snacks for the day, are hydrated (having a cute hydro flask helps with this) and get your blood flow going in between clients. It's important to pay attention to your energy levels throughout the day. Understand that being a service provider is draining and find ways to fill your energy tank up. Something I also took for granted as an Esthetician and Lash Artist is stretching- I just didn't take it seriously and wish I would have incorporated 10 min of stretching into my daily routine before and after clients.
Before starting anything in your business, having a clear WHY will help you when you feel lost, unorganized, stressed or just unclear about what to do next. Your why is your purpose and essential to the wellness of your business. If you haven't thought about this I suggest sitting down and getting to know yourself and your business before moving forward with any of the steps below. It's so easy to rush out of school and immediately into a job, then to rush that process and start your own business without thinking about why you want any of this and what your plan is for business.
Get your business organized
Back-end stuff no one teaches you- having proper licenses, having systems in place for yourself or potential employees- creating structure for your business so if someone else were to walk in tomorrow they would know how to run it. An example of this is daily routines you do within your business like confirming every client 2 days prior, taking deposits, having retail sales goals, procedures for cleaning your space and where everything is located in your studio. You can never start too soon with a basic list of systems and procedures for yourself and it's also so handy when you might think about hiring! Setting aside time at the beginning of every week to look over your client schedule, assign operational tasks to days, plan social media content, etc is the most important thing you can do for organization. It will help all of the jumble of things we have to do going on in our heads not feel so overwhelming, and will empower you to conquer your week.
Set boundaries with your clients
One of the most important parts of business wellness are the boundaries you create for your clients. This may seem totally terrifying to do in the beginning especially when you are eager to be booked and making money but I can guarantee not having these in place will be the quickest way to mental and physical burn out. Make sure you offer online booking, have cancellation policies in place and visible on your website, social media and anywhere a client may book an appointment. Make sure you are on time and encourage your clients to do the same. Create a safe space for your clients, allowing them to unwind and find that sweet spot where you allow them to feel comfortable opening up to you but online booking, a set schedule, time between appointments- setting aside time for education and creativity to flow but also showing up for your clients when you are with them... checking your mood and energy level making sure you are present and grateful.
Scheduling marketing and social media content
Finding a balance between taking clients, creating a social media presence and keeping up your business can be incredibly draining. For many of us this is not what we went to school for- we learned how to serve our clients, not be professional marketers! It's easy to feel overwhelmed trying to manage it all and in response many professionals will shut down and experience total creative burnout. Having a grasp on your online and social media presence and a schedule for it so that you can successfully serve your clients without feeling distracted by social media is so important. Knowing your why-understanding what the pillars of your business are that hold it together-from there having a loose marketing strategy that allows you to promote your business-setting up newsletters and blogs, creating a social media schedule that shows you are open for business and a relevant service provider.
I hope these tips are helpful for finding your own version of work/life balance! For more on this topic, check out this blog on staying zen while taking clients and be sure to sign up for newsletters to be the first to know when my social media e-book is here!