Artist Feature: Q + A With Sophia Delgado of Soph Beauty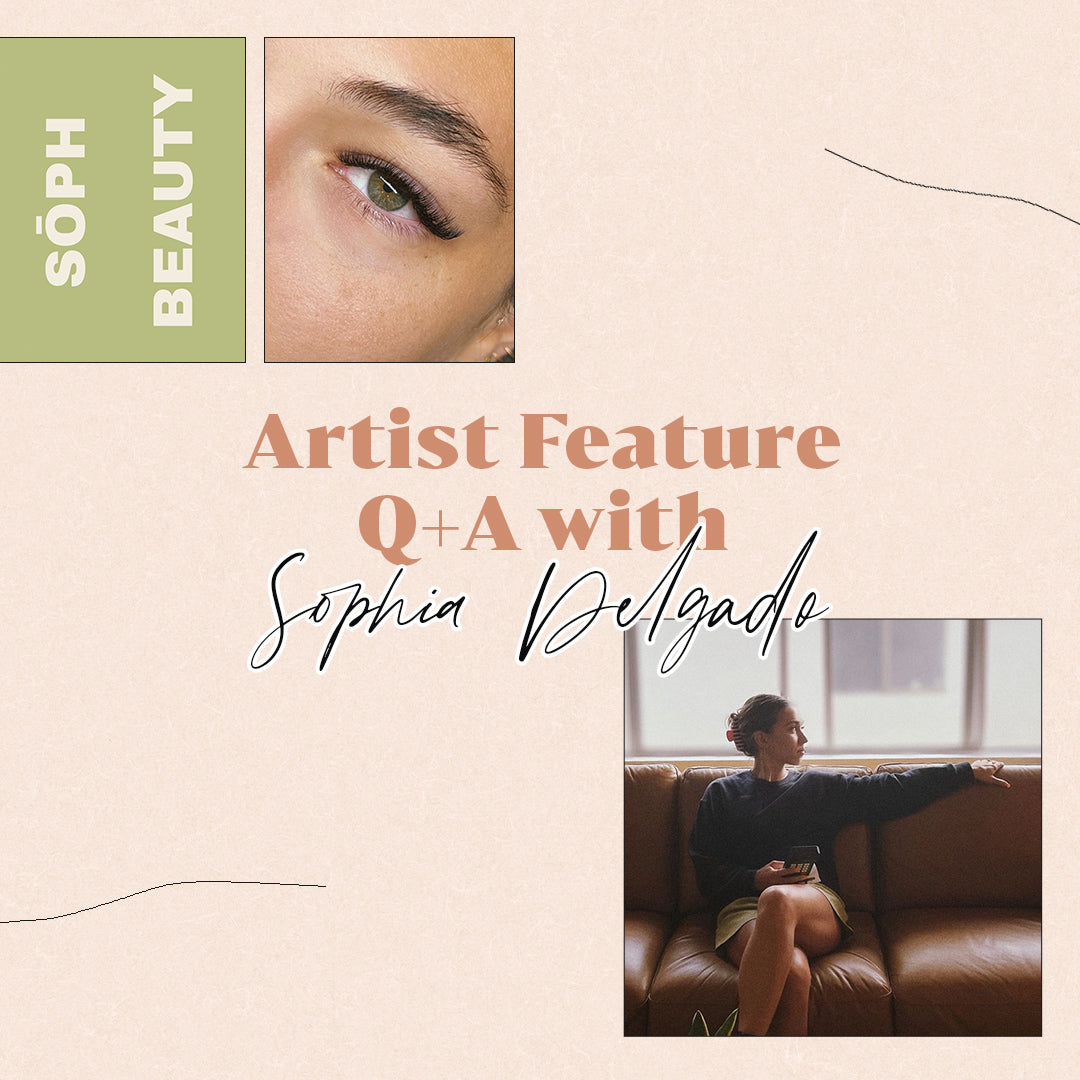 I'm so excited to be bringing artist features back to the blog- and to spotlight beauty professionals in our industry that I find inspiring.
When I'm browsing on social media, I'm constantly looking for people and content that stand out to me. Maybe it's a post, something is they said to me or just the way I see them show up. I love being able to hear the stories, tips, and tricks of inspiring women in the industry- and I hope the series will inspire you and give insight into what real-life struggles and triumphs your fellow lash artists, estheticians, and beauty professionals are dealing with.
I wouldn't have this platform without any of you and for that I want to thank you!
If you'd like to be featured, please fill out
this form
and you'll be added to our list.
This week, I got to chat with
Sophia Delgado
aka
@sophbeautystudio
 and asked her to share her best tips, current favorite products, and studio decor recommendations! I met Sophia years ago through lash events and we just clicked. She has a calm energy I love, and I'm so proud to see her open up her own space and crush lash artistry. Her sets are to die for! Read on to see what she had to say:
I like to always carry extra tape, adhesive, spoolies, and wubbies during the busiest months because since I'm a solo esthetician I supply for myself and don't rely on anyone to supply me an extra tool. During the busy weeks I write down what products and tools I use most and make sure I have what I need to future busy weeks and months. 

I shake and dispense a new adhesive drop every 15 minutes to ensure I'm using fresh adhesive on every lash, which will aid in better retention. 

I prefer to lash each section in 15 minute increments, which means I set a timer and during the first 15 minutes I lash only the outer corner to the pupil section first, then I set another 15 minutes to lash the inner corner to the pupil section. I do this for a total of 4 times during a 60 minute fill because I find the results to be even, full, and dark. If it's a full set I still use the same increments, but I repeat it a few more times. 

I ask each of my clients that come through the door if they have washed their lashes today and if not they wash their lashes at my sink. I find having clients wash their own lashes at my studio will remind them how important it is to also do this at home. This is a great opportunity to retail a cleanser or brush without feeling salesy.  

The angle of how I place the extension onto the natural lash and how much adhesive I scoop up will 100% determine the clients retention. It's not always the clients fault if their lashes do not hold. I educate every client on how to take care of their lashes at home, so if they come back to their appointment with more fallout than usual, we'll try to pinpoint what the cause could be to fix it. 

Communication is the key to understanding what your clients want, love, and hate. Beauty industry pros build relationships with every single client, so I do my best to communicate and give them what they ask for. 

I believe that arriving 30-60 minutes early to work to set up my station, clean, and organize the space will set a positive relaxed tone for the day. I promise that all clients will notice how punctual and tidy you are and will respect you more for that. 

The products I love at the moment are SoCal beauty's pre and post lash treatments, their sis adhesive, and lash trays. I also love Revolashions lash trays. My favorite tweezers I use are from Lux lash society, SoCal beauty, Borboleta, and Naaz beauty. 

I have an amazingly comfortable bed from Plush & Oak. I'm obsessed and so are my clients! It feels like you're laying on a soft cushion. It's so beautiful and is a statement piece in my room. 

The lighting I have is the CosmoGlo light and it's the perfect amount of brightness. It's shaped like a half moon, which is nice because the lighting hits evenly on my clients face. 

I love a space that smells nice, but never too over powering. I also want my clients to remember how nice my studio looks, feels, and smells! To help that, I diffuse doterra and young living essential oils because they're clean scents and are known to boost our mood and relax us. 
Be sure to check Sophia out at sophbeauty.net and give her a follow on Instagram! 
xx