Four Books That Completely Changed My Business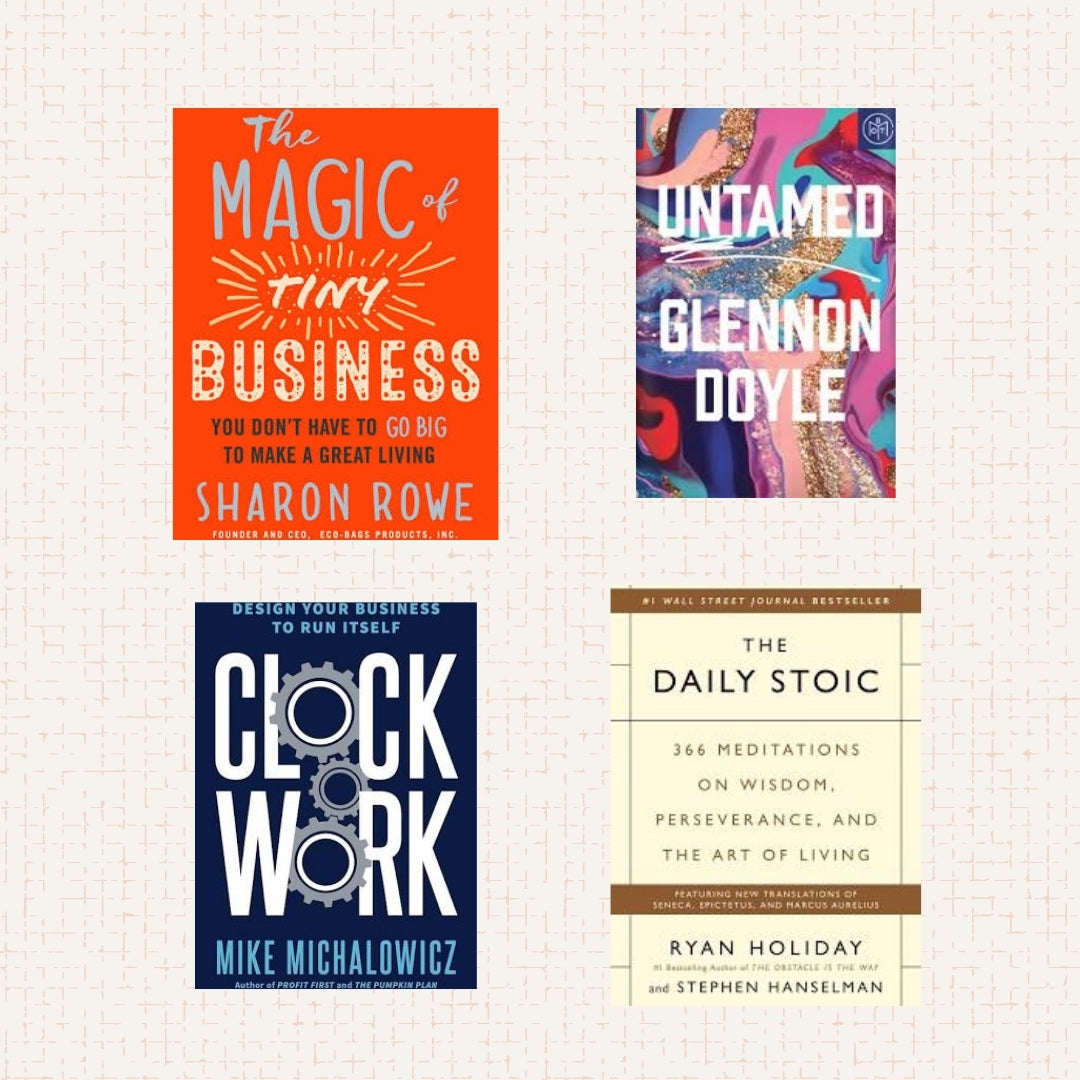 Something I like to tell my clients is that making time for education is crucial to running your own business. I believe that there is always more to learn, and I try to practice the same thing within my own business- seeking to learn new things as my business, and myself, grow and change. I wanted to share with you all some of the books I've read recently that have completely changed the way I look at my business:
The Magic of Tiny Business: "Too many of us feel trapped by work that keeps us from living our purpose. We fantasize about starting our own business, yet we're warned against falling into debt, working eighty hours a week, and coping with the pressure to grow. Eco-Bags Products founder Sharon Rowe says there's another way: go tiny. Like a tiny house, a tiny business is built on maintaining a laser focus on what is essential by living an intentional life. As an entrepreneur and mother, Rowe is most concerned with putting family first, maintaining financial security, and doing something that makes an impact in the world. Using the success story of Eco-Bags Products, Rowe distills the step-by-step process of building a profitable, right-scaled, sustainable venture that doesn't compromise your values. She shows you how to test your concept, manage your money and priorities, and more, while staying true to the "tiny" ethos." - Google Books
Untamed: "There is a voice of longing inside each woman. We strive so mightily to be good: good partners, daughters, mothers, employees, and friends. We hope all this striving will make us feel alive. Instead, it leaves us feeling weary, stuck, overwhelmed, and underwhelmed. We look at our lives and wonder: Wasn't it all supposed to be more beautiful than this? We quickly silence that question, telling ourselves to be grateful, hiding our discontent—even from ourselves. In her most revealing and powerful memoir yet, the activist, speaker, bestselling author, and "patron saint of female empowerment" explores the joy and peace we discover when we stop striving to meet others' expectations and start trusting the voice deep within us." - Amazon Books
Clockwork: "Do you worry that your business will collapse without your constant presence? Are you sacrificing your family, friendships, and freedom to keep your business alive? What if instead your business could run itself, freeing you to do what you love when you want, while it continues to grow and turn a profit? It's possible. And it's easier than you think. If you're like most entrepreneurs, you started your business so you could be your own boss, make the money you deserve, and live life on your own terms. In reality, you're bogged down in the daily grind, constantly putting out fires, answering an endless stream of questions, and continually hunting for cash. Now, Mike Michalowicz, the author of Profit First and other small-business bestsellers, offers a straightforward step-by-step path out of this dilemma. In Clockwork, he draws on more than six years of research and real life examples to explain his simple approach to making your business ultra-efficient." - Amazon Books
The Daily Stoic: "A beautiful daily devotional of Stoic meditations—an instant Wall Street Journal and USA Today Bestseller. Why have history's greatest minds—from George Washington to Frederick the Great to Ralph Waldo Emerson, along with today's top performers from Super Bowl-winning football coaches to CEOs and celebrities—embraced the wisdom of the ancient Stoics? Because they realize that the most valuable wisdom is timeless and that philosophy is for living a better life, not a classroom exercise. The Daily Stoic offers 366 days of Stoic insights and exercises, featuring all-new translations from the Emperor Marcus Aurelius, the playwright Seneca, or slave-turned-philosopher Epictetus, as well as lesser-known luminaries like Zeno, Cleanthes, and Musonius Rufus. Every day of the year you'll find one of their pithy, powerful quotations, as well as historical anecdotes, provocative commentary, and a helpful glossary of Greek terms. By following these teachings over the course of a year (and, indeed, for years to come) you'll find the serenity, self-knowledge, and resilience you need to live well." - Amazon 
I hope these books are as helpful for you as they are for me! Let me know in the comments what books have helped your small business.
xx