How to Style the September Tee + My Inspiration Behind the Shoot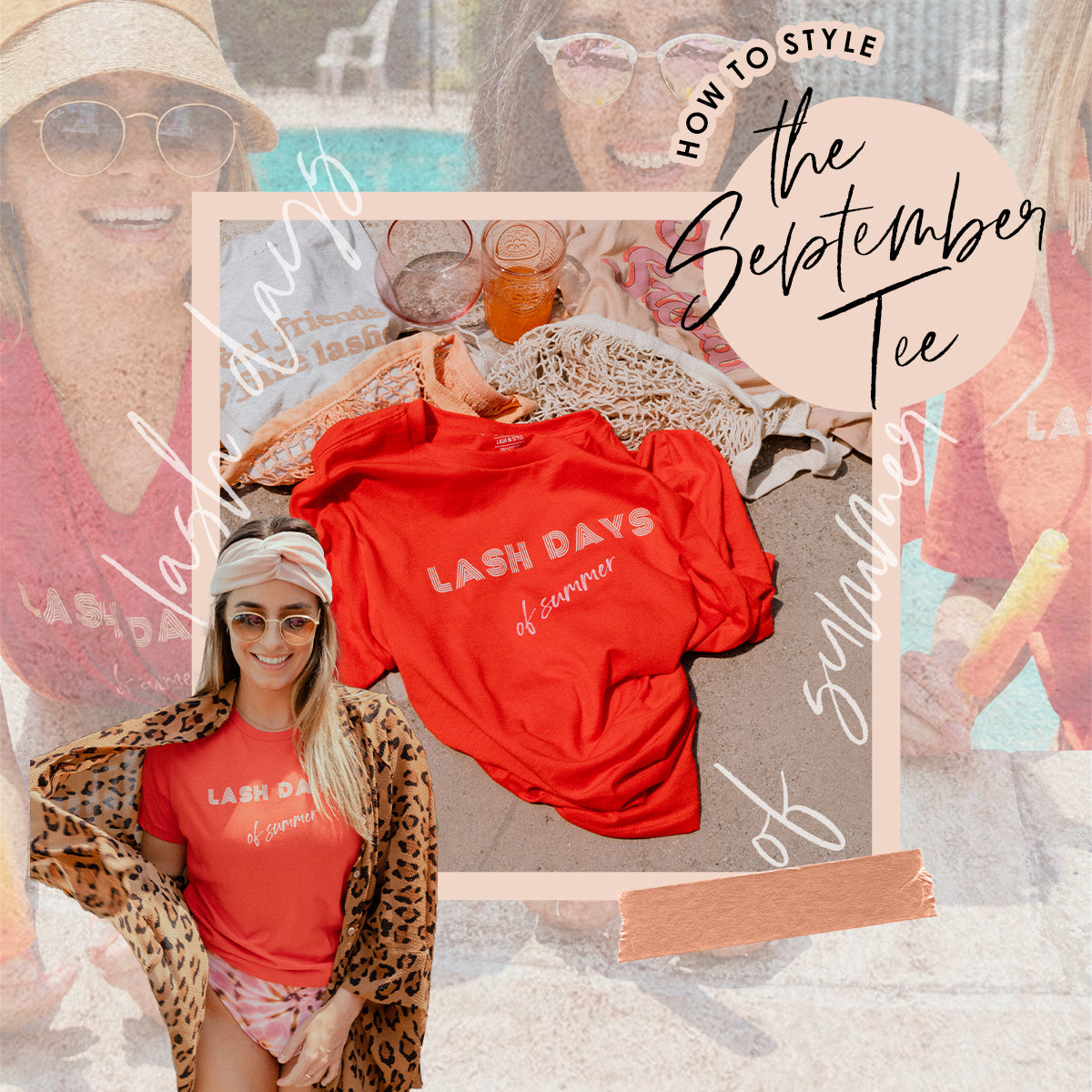 How was the September tee thought up? I walked into the office one day, sat down, and within 30 seconds said "lash days of summer" to Hailey. September 22nd is the official last day of the season and I wanted to go out with a bang! So, I picked an off-brand color tee (hello, poppy red), muted it down with cream and blush pink graphics and boom, we had something cool to end the summer. I am constantly thinking about cohesiveness when deciding what to put on the shirts, what colors to use etc., and this just felt right. (Harry Styles' Watermelon Sugar video just def gave me serious shoot inspo, too.) 
I knew right away I wanted something vibey and different for our photoshoot for this tee and my mind went straight to a fun, poolside shoot that was reminiscent of an LA or Miami rooftop pool party with a side of boujee real housewives lounging poolside with no cares in the world except drinking mimosas and applying lash serum. Here's the Pinterest board I put together to help bring my vision to life (something I highly recommend doing if you're planning your own shoot).
With photoshoots, sometimes they're cut and dry - you need clear and bright photos on a simple background to get the point across but my favorite shoots are the "lifestyle" ones that allow me to get creative and think outside the box with a different theme each time. With the monthly lash tees, I really love to set a mood for each month so you can not only wear the shirt but feel inspired to style it a certain way, wear it differently or maybe just try a color you might not typically go for, which is exactly what I did with the Lash Days of Summer!
This tee is all about fun! You can pair it with denim, leopard print or a bikini! My favorite tip for your guys is to use this tee and the vibe I created around it to create content for your own social media wearing the tee! It's eye-catching and trendy and the perfect top to wear while shooting some fun photos for your IG. 
Here are some current favorite pieces for how I styled the tee for our shoot!

And don't forget to accessorize...

If you'd like to join the club, you can do that here! It's a pretty cool club if I do say so myself.
And if you love your tee and where it for the 'gram, don't forget to tag us @dearlashlove so we can repost!