Sh*t You Need to Know if You're Lashing From Home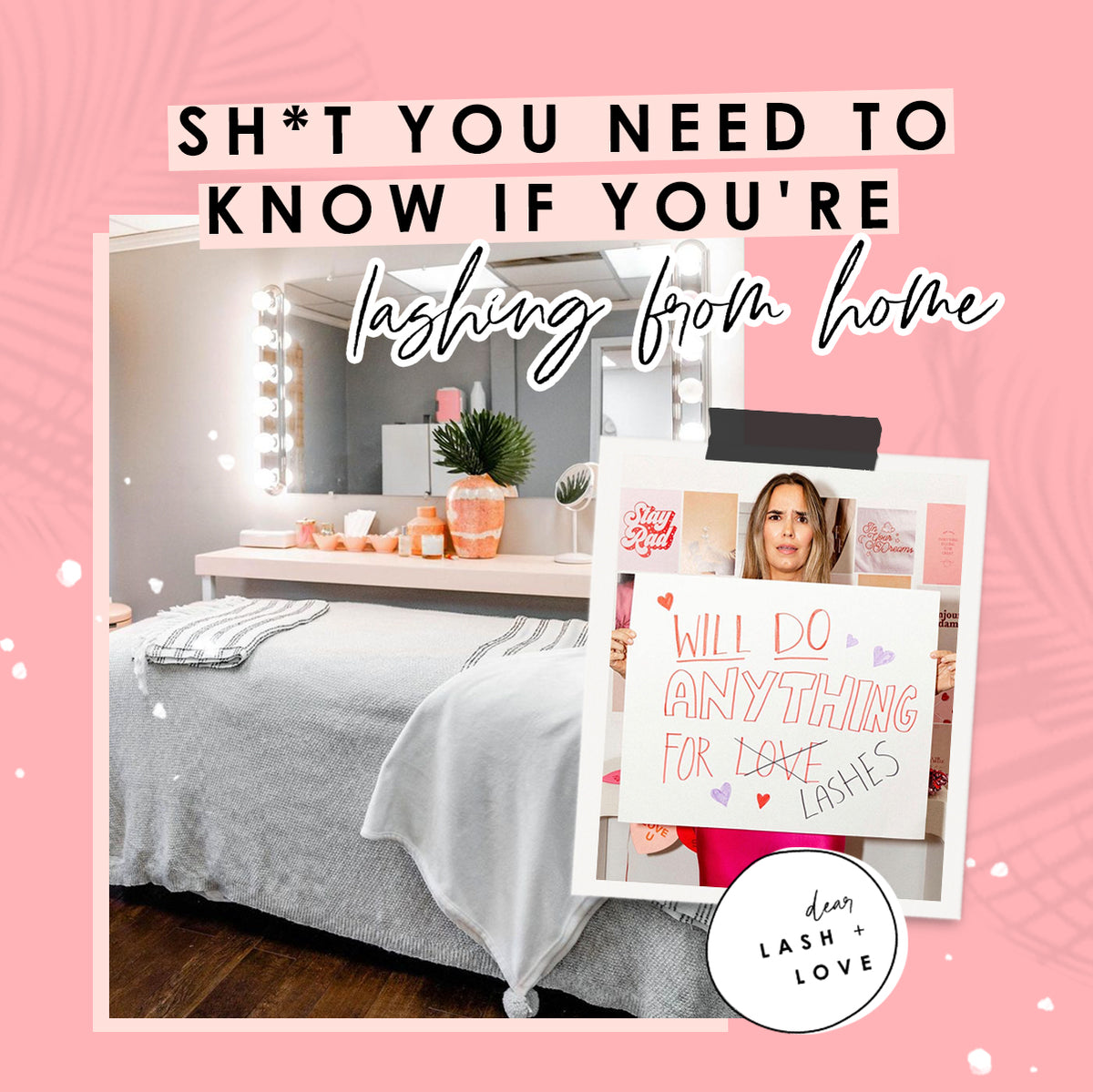 Most of us have been there or are there currently: We take clients from home. It was only 7 years ago that I was hauling all my lash and skincare supplies, massage table and stool to client's houses and also setting up to bring them into my home.
Look, I know it's a little taboo, but given the state of the beauty industry right now, some might find that lashing or doing facials from home is their only option and I totally respect that.
I hope the following tips for taking clients from home give you some peace of mind, and even if it's not the ideal scenario, give you the confidence to do your best work.

Make sure you have online booking
Utilizing your online booking system is still the best way to email clients or text message them to keep your business as "professional" as possible. If you need more info on the tools and platforms to use to help your biz run smoothly, more on that here.
Don't get lazy
Don't allow working from home to be an excuse to slack off on other aspects of your business. If anything use it as a chance to elevate the things you've been wanting to change or update.
Communicate well
Send out confirmation emails and/or texts beforehand with clear directions on parking and that it is at a house. People don't like to be caught off guard. 
Have an in-home room set up
Designate an area of your home, ideally a separate room, for your clients. Set it up as you would a normal space. Add accents to make it feel special, paint an accent wall if you can. When I took clients from home I actually painted a pink wall and it distracted them from looking at my living room, LOL. 
Keep it clean
This goes without saying, but no matter what, keep your space clean. There's nothing worse than walking into a "lived in" home when the person living there is supposed to be offering some kind of professional service. Basically it's like you're staging your house. Make sure you sanitize and disinfect and check your state board for guidelines. Keep windows open for air flow and natural light. Put your dog or cat away and make sure there is a candle lit, music playing and you have some bottled water set out. And for the love of God, please make sure your bathroom is spotless and your trash is empty. You want to still give them the luxury experience they're paying for!
Have signage
Whether you have something new made to work for your at-home studio or you bring something from your usual workspace home, have signage and business cards for clients. The more professional vibes you give them, the better.
Pay attention to the details you normally would
I feel like these should be common sense, but I totally understand that when you're at home instead of in a professional environment it can be really easy to forgot these kinds of details so be sure to double check the following before clients arrive:
Your phone is on silent/off
Make sure your massage table is comfy and client ready. Go overboard on this to make up for it being at your house. 
Make sure you two are the only ones there. 
Act as if your business front is where you want to be; own that you work from home and make it a positive thing. Clients can feel energy and you have to make them feel good about being in your home. 
Alright, that's what I have for those of you lashing from home! I respect your hustle and hope these tips are helpful!