Tips For A 5-Star Experience Your Clients Will Love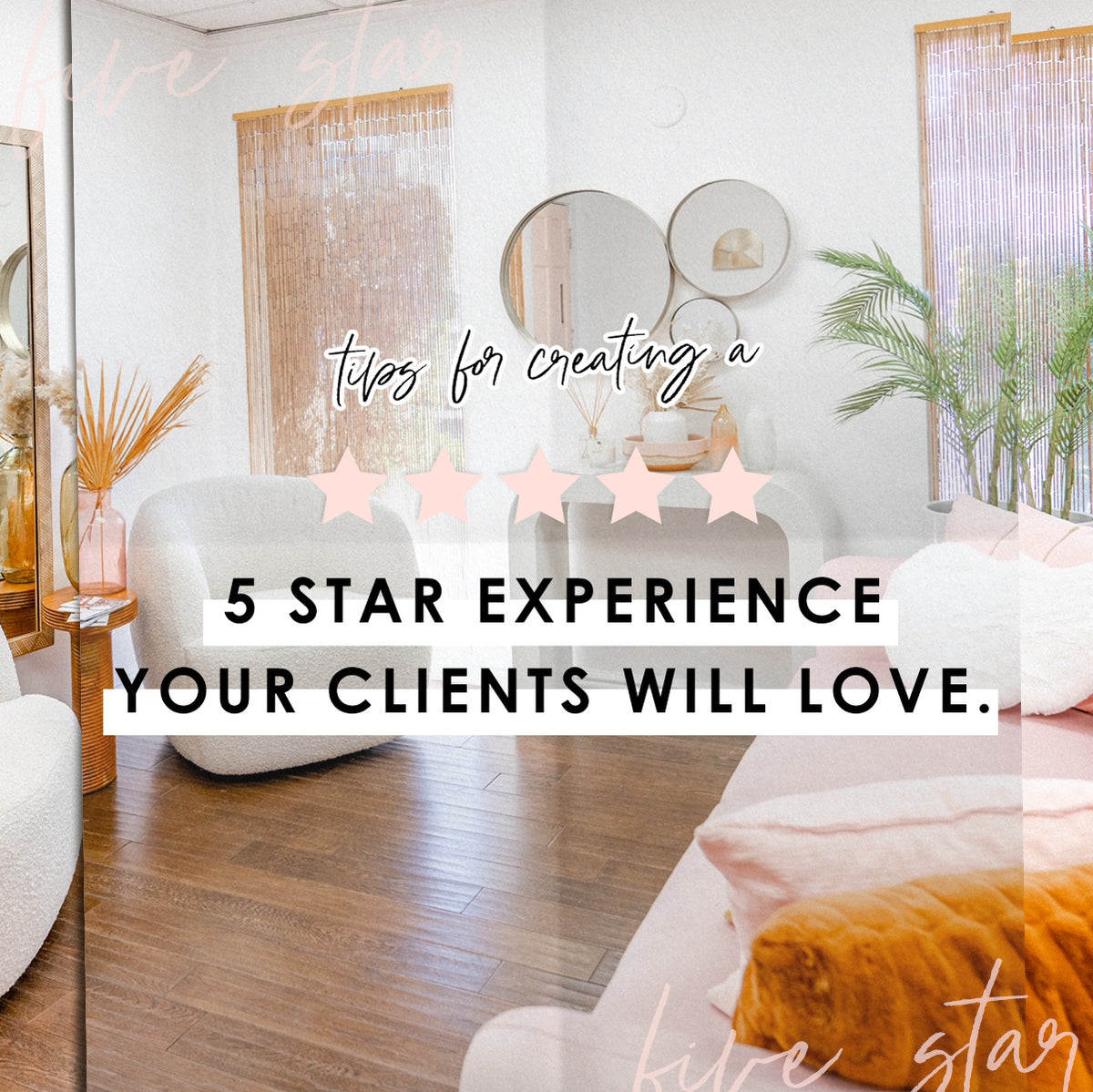 Creating a 5-⭐️ experience for your clients is all in the small details.

It's not just about cute packaging and stickers and pretty pictures. Those things add extra value to a service or experience, but at the end of the day it's how you show up that I think really matters and gets repeat customers. 
It's about how you make your clients FEEL- what they see when they are shopping your site, laying down and looking around your room and making sure you are using the BEST products and CLEAN TOOLS, that you look PRISTINE and ready to work and that you care about what you're doing. Be honest with yourself- do you give a sh*t? Because your clients can smell bullsh*t. 
The best experiences I've had at any salon, spa or browsing an online store start with the initial first impression: what a place looks like and the vibe- how it makes you feel. When it's good, you almost get a bolt of energy running through your body. You can't help but walk away feeling better and inspired. Your space has got to POP! (Check out my blog on decorating on a budget and beauty spaces that are killing the aesthetic game for inspo) 
Let's talk in-person first: the greeting and your clients first impression of you. Your client needs to be greeted immediately (I learned this at Hooters) and they need to know exactly what's going down the second you say hi. *Bonus points for offering something to drink. Check that mirror before you do anything - be dressed to impress...like you would a job interview. 
What comes next is all about the flow of your service- how well you gently guide your client through their appointment, the movements and energy you put into your service and how you end it. (There should be a beginning, middle and end- a wrap up moment).
I'll give you an example of a wrap up moment. My brow threader recently ended the service with a light brow massage and it was unreal. It also told me the service was done. 
On top of these things are great products, good smells and appropriate music. Remember, it's not about you, so ask them what music they prefer or their favorite scents. Plants can change the feeling of any room, so add a few along with the most comfy bed situation you can create and some wall art that makes them stop and stare. 
Lastly, be excited to have clients in your space. Show this excitement. The second you lose your passion and enthusiasm your clients can feel it. Remember their names, what they do for fun, what you did the last appointment and find ways to constantly connect. 

Truthfully, it can be so hard to make this happen each and every single day, but focusing on this in the morning before your work day will set you up for success and give you a sense of purpose at work so you can keep loving what you're doing.
A few questions to ask yourself each time you take clients (or at the end of your week): 

Are you greeting clients immediately?
Does it smell nice in your space but not overpowering?
Do your retail shelves pop?
What music is playing?
What does your room look like?
What do you look like? 
Do your clients know where to set their personal items?
Do you make them feel relaxed?
Are you relaxed and ready for the service?
Do you pay attention to how much you talk?
Do you encourage them to take the hour to unwind?
How is the flow of the entire service?
Are you doing the same thing on one side as you are the other...massage, waxing, lashes, facial etc.?
How's your flow and your own personal energy?
Do you show up for your clients and truly make them feel special?
Do you offer them tips they can take use at home?
Do you remind them to drink water if necessary?
Do you encourage them to book again?
Are you mentally showing up for them?
Are you so good they will never see anyone else?
Are you showing up as the best version of YOU?
I've gathered these tips from years of customer service experience-from restaurants and nightclubs to spa settings and boutique style spaces and I hope they help xx