What I'm Loving This Month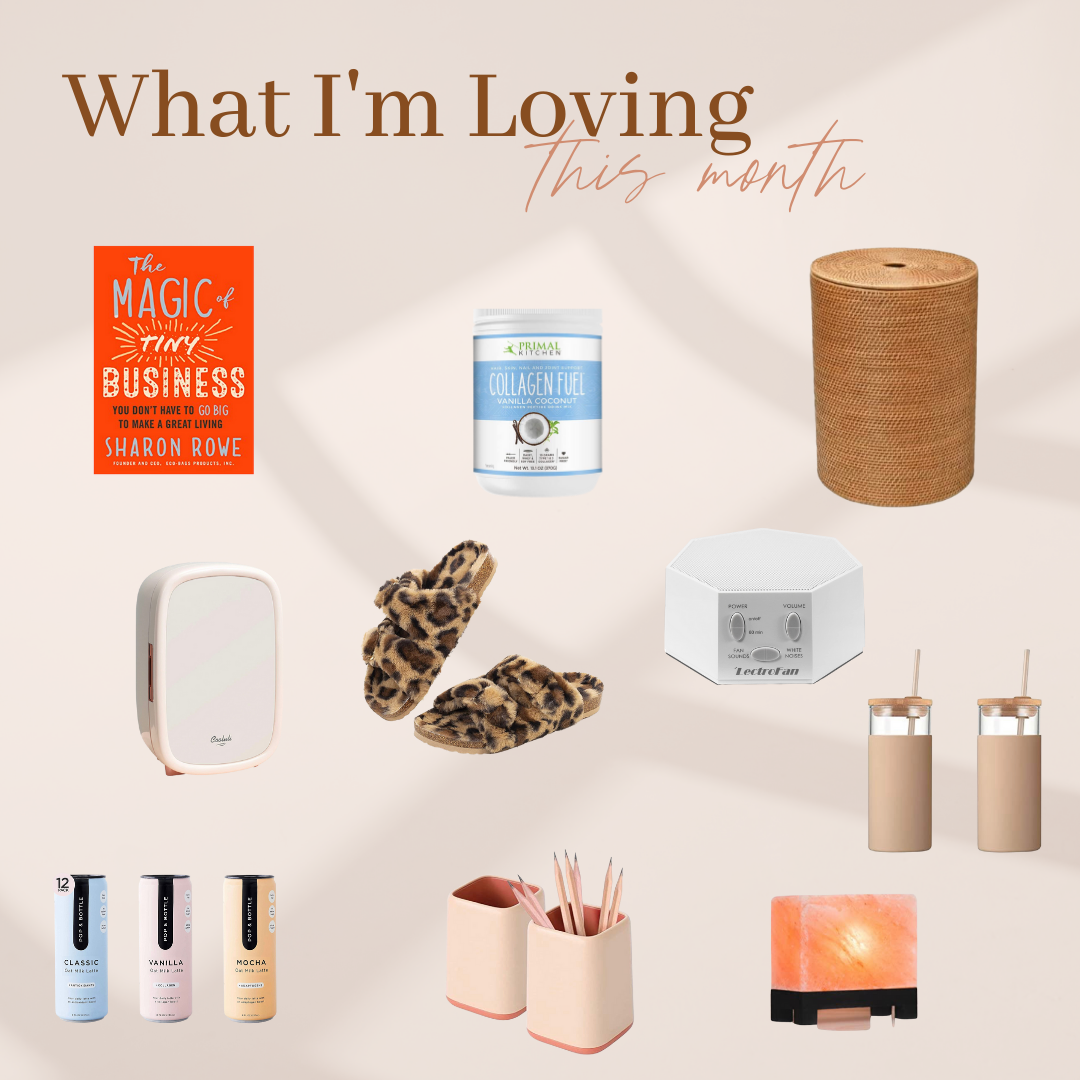 Here we are again- time for my monthly roundup of products I just can't get enough of! I love being able to share my honest reviews with you guys, but this month I want to hear from you, too. Let me know in the comments what you're loving right now, and I'll give you a shoutout on the blog next month! 
Follow this link to shop all of my favorites.
The Magic of Tiny Business: One of my absolute favorite business books that talks about keeping your business small and sustainable and living with intention. 
Primal Kitchen Collagen Fuel Protein Mix in Vanilla Coconut: Delicious and super easy to add into homemade coffee.
Rattan Hamper: I love functional items that don't mess up my vibe! This one is chic enough to display.
Cooluli Skincare Fridge: Compact and perfect for storing skincare. 
Leopard Lounge Slippers: Comfy and funky! 
LectroFan White Noise Machine: I literally could not ever sleep without this. It plays 20 different sounds and has a timer. 
Glass Tumbler Set: I carry these with me everywhere and fill them with everything from water to iced coffee. I love that they come with a silicone straw and are dishwasher safe.
Pop & Bottle Oat Milk Latte Variety Pack: These are so good and contain antioxidants, collagen, and adaptogens so I can keep my latte fix healthy.
Two Tone Pencil Cup Set: Organizational supplies are my love language. This pink set keeps my office clean and cute. 
Rectangle Himalayan Salt Lamp: These instantly make a room feel more warm and calm. Amazing in your bedroom or in your work space.  
Lashes Courses From Borboleta: I always tell my clients that there is no such thing as too much education. These courses are my favorite, and code DLL10 gets you 10% off one course. 
Check out last month's favorites here!