What is Coaching? Everything You Need to Know + Why it Brings Value to Your Biz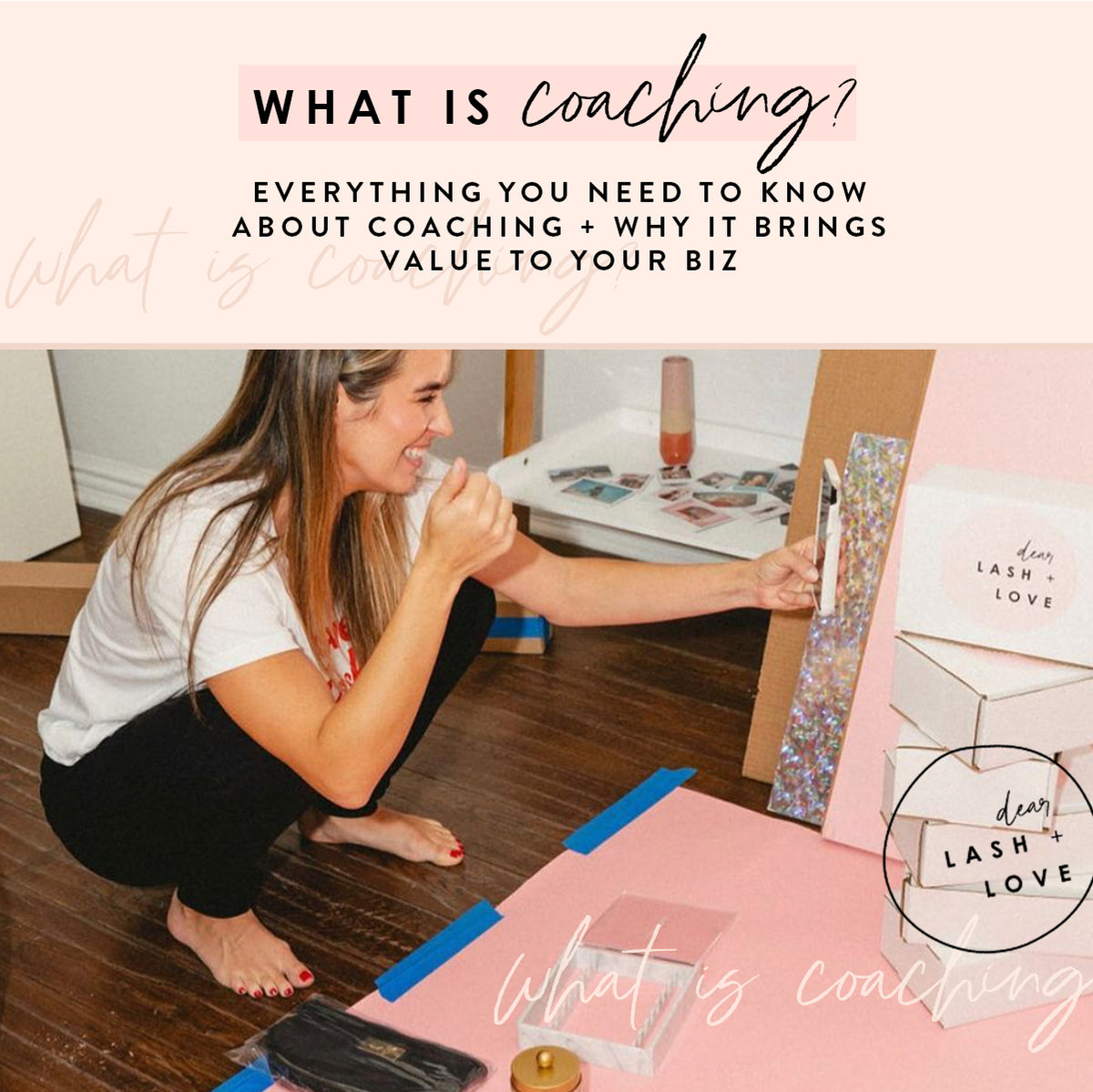 It's about time I did a blog all about the one-on-one coaching I offer for my girls in the beauty industry! With about 8 years under my belt of starting, building, growing and navigating my own business and online presence, and most of my focus turning to helping women in the industry find their own way, I decided there was a serious NEED and WANT for someone like me to open my doors even more to helping others on a more one-on-one basis. I've spent hundreds of thousands of hours educating women in the industry through social media, podcasting and in-person events, that I felt like it was time for me to offer this as a one-on-one service! 
My Style of Coaching
I only claim to know what I know and what has worked for me. My teaching style and knowledge is less cookie cutter, more relatable, easy to absorb and puts my clients in a position to actually execute. A call with me will be like hanging with your best friend for an hour sharing all the latest secrets. We can talk about anything you need and I've found my best, most efficient and rewarding calls to be less structured in the beginning. Consider me a business therapist. Each woman I connect with is unique and no call is the same as everyone has different kinks within their business they need to work on/learn more about.
I like to form connections with my clients and get to know their business, but what's most important to me is that I get to know them. Once I know YOU, the person behind the business, it helps me pinpoint exactly how I can serve you so you get the most out of my coaching.
I'll break down what I've done in the past with clients and also what I offer so you can get an idea of what to expect or consider. 
Topics I've covered in calls and currently focus on:
+ Navigating the job scene after beauty school (I wrote a post all about my story if you need to feel better about not having all the answers - I sure as hell didn't)
+ Products I love and use (you can also read about some this here and here)
+ Client retention 
+ Delegating tasks to employees 
+ Personal and business growth 
+ Social media graphics and calendar 
+ Newsletter edits (definitely sign up for my newsletter so you can see the kind of content I share plus I also provide content tips and ideas from newsletters to blog posts)
+ Choosing brand colors (lots of tips here)
+ Product development 
+ Website edits through Shopify and Squarespace 
Now I want to share with you why I feel like it is so beneficial to have someone who can help you with your business. I know for me, running a business by myself has been extremely lonely and confusing at times. I wish I had someone to call to book an hour session with to ask all the questions and really just another person that could help me stay on track. It's one thing to vent to your best friend who loves you but can't relate, it's another to pay a professional who really does know the business and can offer insight that you might not get elsewhere.
I also have to say that booking an hour coaching call with someone can relieve so much pent up stress within you that you didn't realize you had. I can't explain the relief I've seen on my clients' faces after talking with me for an hour. Sometimes you just need to hear yes, you're doing it right or no that color is off or hey let's try this next month. It really helps to have a helping hand and another pair of eyes on your business other than your own. 
I'm also a girl on a budget, as most of you are, and I realize that coaching is an expense, but what I will say is I know so many of you are working solo and don't have employees as of yet, so think of this as a monthly expense you can write off for your business! If you do have employees - great! Coaching is so beneficial for organizing your team. 
Lastly, I just have to say that I am so passionate about helping women in the beauty industry. When I first started my business I created beauty-inspired apparel in hopes to inspire other women to show off their creativity beyond the treatment room. Little did I know it would turn into more than clothing and become a community for women in the beauty industry to support one another. This is why my coaching seemed like the perfect addition to my business. 
Take a look at what I offer here and don't be afraid to reach out with questions! There's nothing I'd love more than to help you solve whatever issues you're having with your biz, gain more confidence within yourself and see you seriously KILL IT.