Everything You Need to Know About Wholesaling + Setting Up Retail for Your Business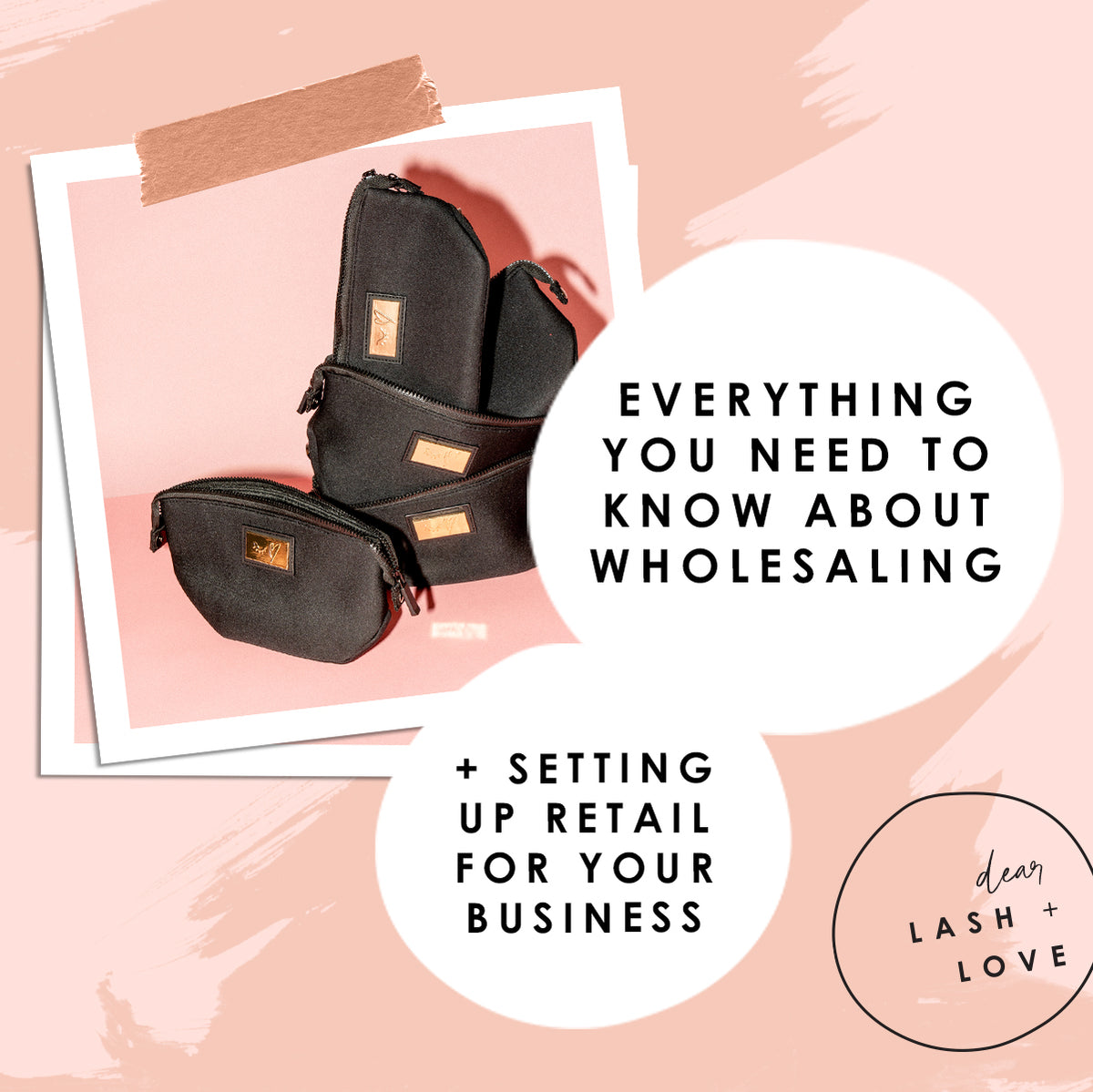 This is a long overdue blog post about one of the most confusing yet informative topics you'll need covered if you are a business owner, working solo and wanting to make extra income or looking to start a product line. We're talking wholesale and retail, baby!

Most of us start out working for someone else or working solo and one of the first things we are taught (or supposed to know) is how to sell retail. For me, working at a high-end spa right out of school really helped me to learn to find confidence in not just selling but educating my clients and setting monthly retail goals to hit. No client left their appointment without buying what I suggested and THAT'S how you do it. But how do you get started if you are totally clueless? What is retail? And later down the line when you branch off on your own, what is wholesale and how do you know what to choose to sell and how to sell it?

There are so many questions and so much information to share, which is why I just want to get right into it. I want to make the most of this post and be sure it is a true resource for you so I also asked two women in the beauty industry to offer up their best tips! This a good one, guys and I really hope it's helpful!
Tips from Rebecca Olpin at Sorella Apothecary
When making the decision to sell retail, it's important to choose a brand that aligns with your business and your beliefs as a professional. Some product lines have a minimum opening order that needs to be met in order to retail them. Check in with the representative of the brand and be sure to communicate your business needs so they can assist you in getting the best start. ASK QUESTIONS!

What training is offered to support you?
Are you able to sell online to have a broader outreach? What are the requirements to do so?
Are there re order minimums? Incentives?
How long does it take to receive your order?

Take the time to learn all of the ins and outs of the brand. Any one will feel "sold" to when the person selling is not 100% behind what they are suggesting. Some people bring a brand in and invest the money, but overlook investing the time to educate themselves. Factor time into your schedule to learn everything you can. It's easy to just sell things you love, but don't forget there will be clients out there in need of something different to fit their needs. 
Pay attention to your inventory. Are some things selling faster than others? Why aren't the other products selling? Sometimes it's an easy fix of learning more about that product so you can speak on it more confidentially. Use your rep! They will have some insight on some verbiage or maybe some key points to help the product move for you. Be sure to keep yourself well stocked - an item not on the shelf could be a lost sale. 
4 pillars to keep in consideration to ensure you are genuine in your retailing:
Confidence in what you are selling is going to be a key component in your success. Take the time to research the brand, factor in time to be trained by the brand and allow yourself to get comfortable speaking on what you are selling.
Communication with your clients is HUGE! Get excited about what you are bringing on and how they will benefit. Go back to your "why" of bringing on a brand. Educate them on how to use the products and teach them something. An educated client is a loyal and consistent client.
Consistency with your day to day and client to client will keep you fluent in your retail sales. Be consistent with how you recommend items and it will become fluent for you and something they are used to when they have an appointment. It may take you talking through it with a few clients to get comfortable, so practice verbiage with friends and family. I promise as awkward as it is, it works! This leads you back to the confidence pillar. 
Connection with your clients will provide the opportunity for you to really hear what it is they are looking for. What concerns do they have that you can address with a service you offer or an item you retail? This allows you to provide a solution to what they are concerned with. This builds trust and meets your client's needs.  
 When you take these pillars into consideration with everything you do you will find retailing becomes something you can enjoy. Not only will your clients see more results, but your bottom line will also be increased. We only have so many hours in the day to take treatments, retailing is something you have control over to build your income. Everyone wins!
Seven Steps to Retail Success from owner of The Brow Fox, Emily Stites

1. Paperwork stuff first! Get your seller's permit - seriously, just do it. Oh and budget and plan for your wholesale purchase of course!

2. Retail only sh*t you like and use. 

3. Make it easy on yourself and order through platforms that allow you to order multiple brands such as Focus on Beauty Brands or Faire.com. No multiple passwords, multiple applications, paper work submissions, just a one stop shop.

4. Take advantage of the brand's marketing but make it your own to keep it on brand with your brand!  

5. Get to know the brand's owner/background and talk to your clients about it! You'll get inspired yourself and make a sale without even trying! 

6. Share opening orders with your gal pals OR pre-sale items to hit the larger minimum order quantities. 

7. Automatically set aside 10% for sales tax in a separate bank account you never see. And don't even think about touching it. 
Alright, it's Lorena again - wow! I wish I had this information before I went out on my own! As you sort through all of this, get organized and place your first wholesale order, I also want you to consider your retail display. Like Emily said, the products you're selling should fit in easily with your brand even though they're made by someone else. How they're set up for your clients to see is what will intrigue them (other than hearing you talk about it), so make sure your display area is clean, organized and cute - just like the rest of your studio space!
I know adding retail to your business can feel overwhelming - it's one of the many things they don't teach you in beauty school - but you'll never know the money you could have made if you don't give it a shot, and hopefully after reading this post you feel ready to take the plunge!