How to Start a Blog for Your Lash Business + 3 Topics You Can Start Writing About Today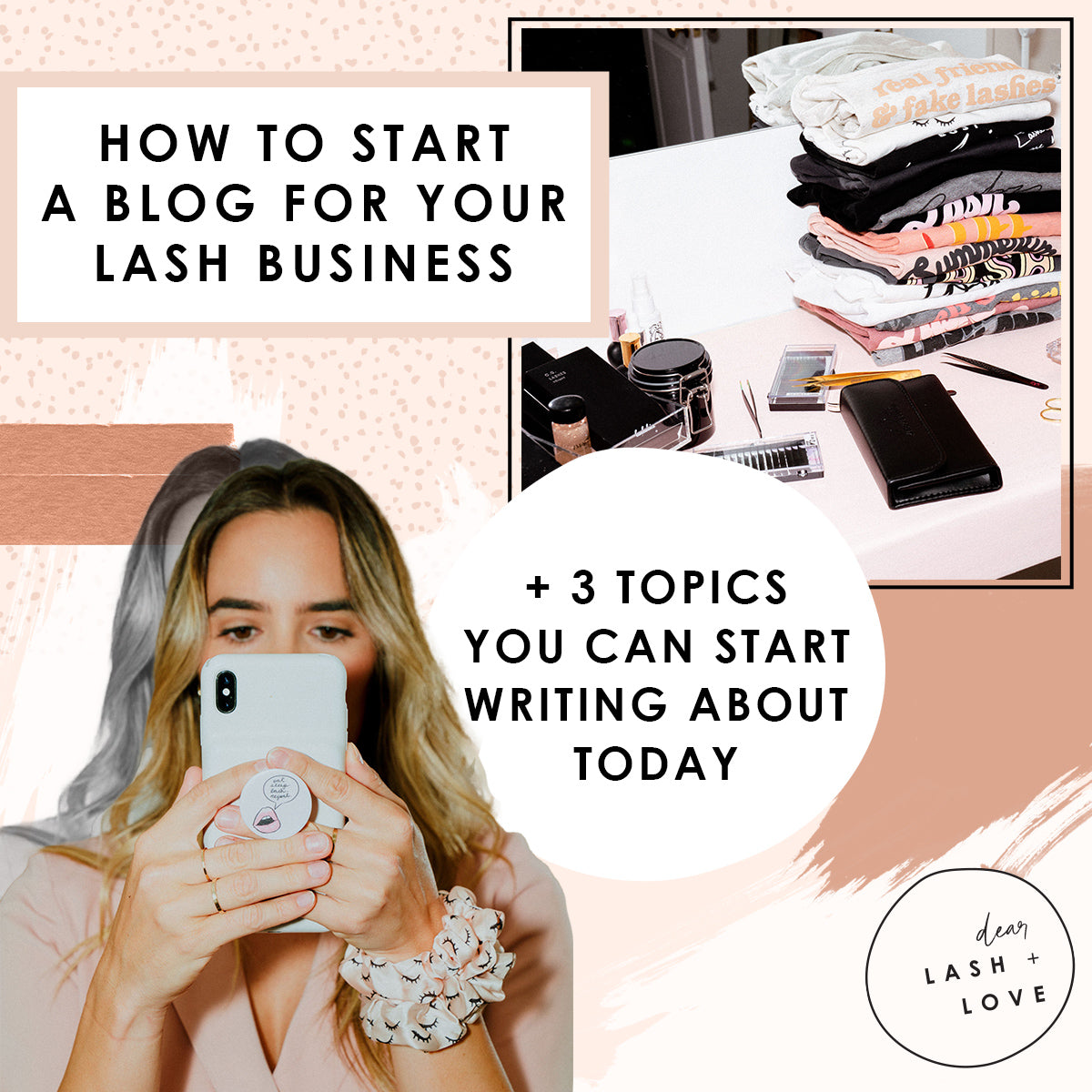 When you're first starting out as a lash artist, the last thing you're worried about is writing a blog. You're thinking about lashing as many clients as you can and how to get them to keep coming back to you. But what if I told you a blog could be something complementary to your business that will help you attract more clients and give you a place to share all the information you already know as an artist?
I'm saving you the hassle of figuring this out way too late in the game (even though there is a never-too-late timeline in my opinion) because if you can start slowly but start NOW, it will help your business feel cohesive and professional as you continue to grow. I previously wrote a blog about why you need one but now I'm here to break down how to start. I'll keep it brief and easy to digest because honestly, I hate complicated "how to's" and I personally love when someone just gets right to it.
So...if you can stick with what I'm about to share for a month or two, you will 100% feel less overwhelmed by blogging. 
+Find the place where your blog will live
I'll make it simple: Get a website domain! For example, www.lorenaashmoredoeslashes.com from
Go Daddy
or
Google Domains
and then link it to a platform like
Squarespace
(you can google how to do this or set up a call with me if you're totally lost). If you already have a website, great! Simply add the blog page to your site and publish it with a post of two once you're ready to go live.
+Worry less about the name and more about creating content
You cant go wrong with using your name for your business and then, if you want, you can always evolve from there. People tend to get so focused on the name that they end up bombing the whole thing, LOL. Or never actually starting!
+Keep notes of your ideas
When an idea for a blog post comes to you, write it down! You can use pen and paper, your iPad - whatever works for you! If it's something you think is worth sharing, then you should absolutely put it out there. For example, if you're trying to get clients, you'll want to think from a client's perspective and really tap into what they would be googling on a Tuesday night about your expertise. Things like "Do lash extensions hurt?" or "How long to lash extensions last?" are two things that immediately come to mind. This might seem like common sense to you but this IS something clients google and if you have a blog about it... boom! They might just end up on your website.
Content-wise, I suggest you start with a general FAQ post and an intro blog about you and your services. I said in the title I was only going to give you three topics, but SURPRISE, here are FIVE!!
if I were trying to get lash clients, my first five posts would be on the following topics:
A FAQ (like I mentioned above - what are some of the most-asked questions from your current clients?)
Who I am (maybe a bit of background on you), what I offer, what I can do for clients 
Are lash extensions right for me?
How to properly care for lash extensions 
Styles of lash extensions and type of client (wedding, shoot, day to day, outdoorsy)
+I want to reiterate thinking like a client
When writing content (for your blog, for IG - whatever!), avoid words/terms clients or people not working in the lash industry might not understand. Blogging for your client is KEY, so always speak to them in a way that's easy for them to digest. Later on, once you've gotten in the groove and found your thing, you can add in fun, maybe lifestyle sort of posts, but start here for now because this is the hardest part.
+You don't have to be a "blogger" to blog
The influencer world has made it seem like only certain people can "blog" but that couldn't be further from the truth. Just focus on keeping your content informative and think of all the things you get asked on repeat by clients. Translate your answers into writing and suddenly you've got content you didn't have before.
Pro tip
: When writing your posts, try to make them at least 300 words. If you can't get there, no big deal, don't ramble just to hit 300, but it helps with SEO. Also, always include some kind of call to action in your posts. It can be at the end, or somewhere in the middle of your post where you can say something like "...and if you want to see more example of this style of lashing, head over to
my Instagram
." You want to TELL people where to go!
+Get as much use out of your blog posts as possible
When I blog, I break up parts of the blog into IG posts. That's basically what IG is... a mini blog. So don't be afraid to recycle content and re-share. The more eyes on it the better! Start with one a month and share it on every social platform you have including a newlstter (sign up for mine
here
) and pinning any images in the post to
Pinterest
. The idea is to spread the content as far out as it will go.
You can take things a step further and also create a graphic on
Canva
using an "IG post" template and use it on your website and IG so you're only making one graphic in the beginning. Once you get comfortable you can play with design and sizing but for now... I just want you to write! :)
+Get the damn blog up and share it
Again and again and again. I always re-share old blog posts and its one less piece of content I have to come up with. Another idea is to pull a quote from your blog and use that on social media!
Give yourself a timeline (1 month, 3 months, 6 months) to get it done. Remember things like this take time and don't need to be executed right away. Whenever I put too much pressure on myself with a tight deadline I freak out and avoid it all together, so give yourself some time to get comfortable.
*To put it into perspective, I have wanted to blog since 2011. I didn't start my blog until 2019. I allowed myself to get comfortable with all the other aspects of my business before I attempted this. I wish I had started sooner but there is also something to be said for, again, allowing yourself to be ready. This is just one of 100 pieces to the business/branding puzzle and as a solo owner (like most of you are) you're just trying to pay rent and that's ok. The point of my blog is to give you a place to go when you're feeling stuck or ready to execute. There's no pressure - just support!