March 2021: Top 3 Questions I Got on Instagram this Month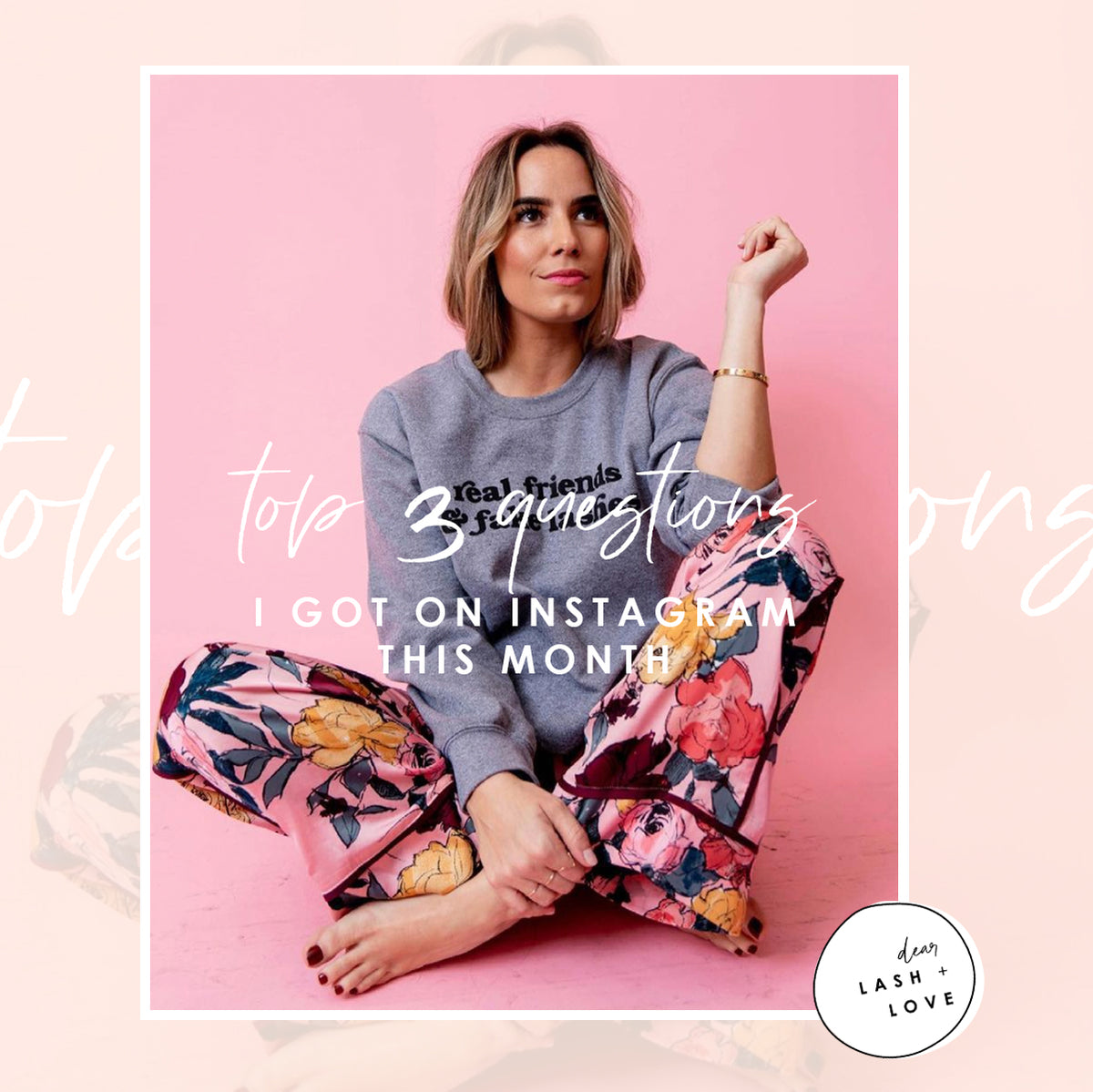 Welcome to installment number two of my new monthly series: Top 3 Questions I Got on Instagram this Month. You can check out last month's here where I answered Qs on how to know if/when you're ready to go out on your own, tips for hiring a second lash artist and more ideas for what to post on IG (something I'm also talking about today because this is the million dollar question isn't it LOL).
As for this month's questions, here we go!
QUESTION #1
Q: My IG feed feels so stale! How can I stop feeling bored with my social media?
A: I love this question! The FIRST thing I do when I am in a creative social rut (or any kind of rut) is head to Pinterest and create my dream vision board. For IG, this is so helpful in creating a mood for your social media; a vibe that attracts and keeps your clients and that feels good to YOU. I consider my online platforms a creative outlet much like lashing, facials and anything beauty related - it's a way to express myself or may alter ego (who loves pink). I simply take inspo from my boards and find ways to recreate this vision on IG.
Also, gone are the days of perfectly curated IG Stories. Yes, there's a time and a place for really clean product shots and they are so necessary but what I love about social media is the story telling and BTS of women's lives + work. I want to see MORE of what you're doing, what you're putting on your skin, your favorite lipgloss and I imagine your clients do, too. Let go, have fun and think of it as your own story to tell. Don't you want it to be juicy and full of life?
Pro Tip: Here's an example of my weekly IG feed: 2-3 helpful reels like favorite lash products, skincare and style mixed in with a few product shots and inspo pics. I like my stories to flow and feel cohesive and make sense but I always drop in a few that go back to what I'm selling because that's what it's there for. 
QUESTION #2
Q: Should I work for someone or rent a space? 
A: I am 10000% all about working for someone else before jumping into the solo world. I'm not saying it will be magic but I can guarantee it will be a stepping stone and learning experience you will not get working for yourself. Find a place that will push you to sell retail and educate you on products. Take this info with you later when and if you decide to venture out on your own. The best thing I ever did was work for others before going out on my own. Solo is rewarding but lonely AF. It can be scary, too because you have to deal with a ton of sh*t they didn't teach you in beauty school. Whatever you decide, be realistic about your goals and how you intend to get there. 
QUESTION #3
Q: I have way too many ideas and not sure where to start and feeling so overwhelmed. Help! 
A: Story of my life! The best thing I ever did, which started last year, was writing them all down and also putting them into tasks in google and picking 1-2 and removing the rest from my short term list (I have a long term and short term list). I won't even allow myself to sway or add more to my plate.
This boundary has helped me to stay more focused and be happy with accomplishing less things that are more meaningful and keeps me efficient in my goal planning and setting. It's just not healthy or realistic to have 5 goals at one time especially as a one woman show (which most of you are). Lastly, hiring someone to help me talk out my ideas, struggles and plans seriously helped me to scale back and feel more in tune with my business and goals. I have someone part time for this and highly recommend it!
If you need more support on any of these fronts, 100% book a coaching call with me. Honestly, not just to plug myself, but we dig in deep on topics like these and I make sure you get off the cal feeling like you have a plan. And if you're Tee Club member, your 20% off discount also covers the cost of a coaching call so don't sleep on it!!
Until next month!!